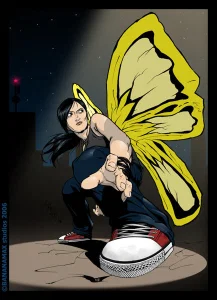 5 years after Xanga…
I remember leaving that blogging community and deleting all traces of it for good. — Not that it was a disease or a horrid habit I wanted to forget or get out of, it was just something i felt I had to do to change.
Say 5 years ago, i was fresh off college, venturing into the brave new world where the REAL life officially begins, they say.
5 years later, i'm finding myself immersed in this REAL Life where every place I go is filled with fake people and false truths; so much for Reality, huh?
I was (am) Gia, aka butterfly wing. (Omit underscore) the girl who rolled in chuck taylors (and comic butterfly wings) and whose blog was filled with photo marquees. I was more of a photographer than a make-up artist then, I liked to rant on my blogs and once in a while I'd throw in some poems and/or short stories.
I was a kid i'd have to admit. My blogs were petty with lovesickness and unrequited love or a confused emulsion of what my childish, confusing love life was like. I can't believe I dragged it that far along, as supposed to just moving on like how i would if it ever happened now.
These days, i'd probably be the same girl who ranted and vented out her frustrations than suffer eye bags and wrinkles. — i find that this relieved stress best: 160 character tweets all day long, my micro-blogging abilities and temper is easily managed, thank you twitter.
Xanga was a public account i did not brandish around on my friendster account for my friends to read. It was more like an open secret, not something i told everybody about, but not something I was hiding. — yes, friendster, and you are not to deny you had one, too.
I met a variety of people in that community who i am thankful I still have now, — 2 of my best friends turn out from that group and the others are crazy wershers who i'm still good friends with.
They say you should have friends younger than you so you can have someone to enlighten and help, friends of your age to make you feel you are not alone and grounded and friends who are older than you so that someone can be of counsel to you. — I had all these in that community, and more.
My past with Xanga is about as colorful as my eyeshadow palette and varying as the contents of my train case, it wasn't all that petty, sometimes I know I made sense.
You gotta agree with me.
And now, I don't know what it's gonna be like here in wordpress, but i know it's gonna be an exercise of both my fingers and words. — Hey! not to mention a full-length, Word-by-word, no-160-characters-barred take on my uninteresting life. Hehe
So, there.
Welcome! I guess, to: giakingbeauty.com, my followers! (or more like, former Xanga buddies)