I'm slowly, (but surely) moving on to Day 3 of #makeupinmanila's #10DaysofBeauty and today, I'd like to share with you my most loved Highlighters, Bronzers & Blushes!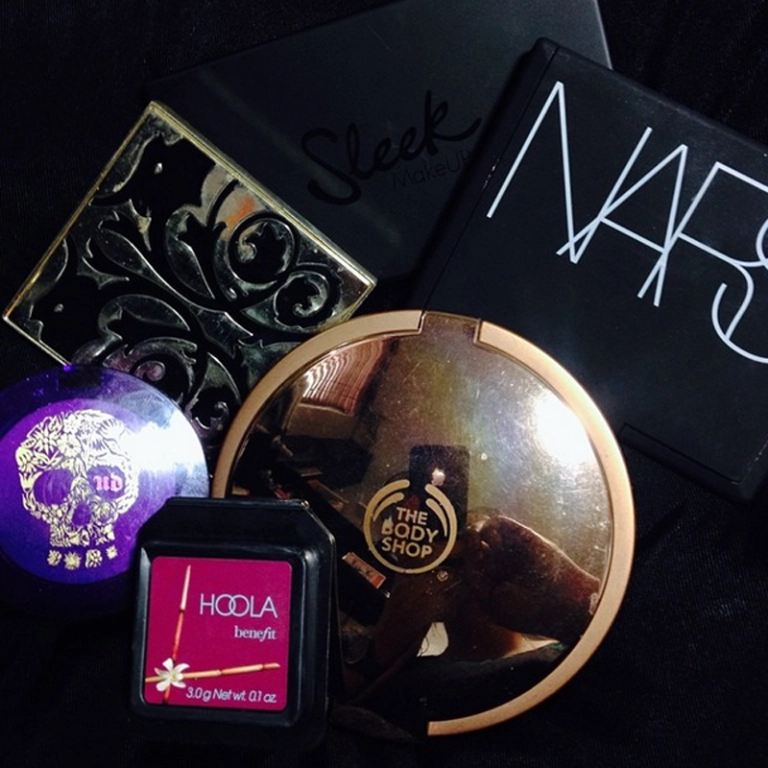 Starting with my newest discovery (even if this is not a new product) and my HOLYGRAIL Bronzer is Benefit's Hoola Bronzer. First of all, It's Matte. Second, the color is just perfect for me. It's a nice neutral coffee taupe color that gives your (my) skin a nice contour and/or color if you choose to use it as your bronzer. I find that I have, in the past struggled on choosing bronzers so I just quit.
This sample size came from the Benefit 'Ulta'mate sexy six set and I'm so happy that that set came with this one. I am pre-ordering one now, from @nicolettemakeup on instagram because as much as I love this product, I don't think I'm gonna hit pan anytime soon on this travel size (4grams) because this stuff is very pigmented. But, if you are taking my word for how wonderful this product is and don't want to wait, you can get yours at Benefit Greenbelt 5 or at Rustan's.
Next up, is the Limited Edition Foreplay Cheek Palette by Nars. — Need I say more? This cheek palette has 3 of the best blushes and probably the only colors I'll ever wear. (No, that's and exaggeration. Haha!) The reason I love this cheek palette so much is because I'm not big on blushes, I like very subtle hints of color on the cheeks cos mine are prominent so these 3 are just perfect for me. They are very pigmented, the finish is so smooth and the texture is buttery on your skin. You can even combine them to have your custom blush color.
On to my next favorite blush! Blush by 3 by Sleek Makeup in Pink Sprint. Do not be afraid. I know. I said I like subtle hints of color and this is the polar opposite of that. This was sent to me by Updated Trends (The Official distributor of Sleek Makeup in the Philippines) to try out and review and I thought: WOW! However am I going to use this? — But I like me some challenge, so then I started playing with this blush palette.
First thing you need to remember before you use this product, regardless if you like it subtle or if you are a big fan of blush: DAB YOUR BRUSH VERY LIGHTLY ON THE PAN. Haha! This is no joke the most pigmented blush powder I've ever had in my entire life, which makes it such a great product. The finish is smooth, it's matte and it's versatile, I promise you. — I will be coming up with a full review on this product and how else you can use it, so stay tuned for that 🙂
Moving on with, Clarins Barocco Face Palette. This is a blush and highlighter in one. You can swirl your brush in there to get hints of fine golden shimmer or pinch your brush and dab on either areas to use specifically for blush or highlight. I love this palette because of the nice matte, baby pink color it leaves your cheeks and because it's neither pale or too pink for me, which is my frequent issue.
My next favorite highlighter is Urban Decay's Urban Glow in Brown Sugar.
They are just amazing little cream highlighters that mimic light and stick to your skin so seamlessly (when blended properly) It looks like a taupe cream on the pan which makes it look more like a contouring cream than highlight, but it has a pinkish silver glow when applied, which I really love! It's best if your skin is on the cool side, but I wear this one regardless 😉 A little baby dot on the highpoints of your face will be enough. NEVER go overboard with this product unless you intend to look like a sparkling vampire 😉
That's it for my favorite highlighters, bronzers, and blushes! I will be back next time with my eyeshadow (palette) collection! 😀
Thank you! I hope these tips and my opinion on the products here were helpful to some of you, Like and Follow my blog if you haven't already. Check out my youtube channel and do the same! I will see you all again next time!