First of all, a big shoutout and thanks to Zel for being my model on this video and my sister, Ivy who got Zel to do it for me and  for editing the video thumbnail 😀
And so now, I'd like to see a raise of hands, those who like pink and/or purple? — Yeah, of course I can't see them :p you can let me know on the comments section 🙂
Personally, I'm not a big fan of purple (violets and lavenders and such) but I love using this color for (my) the eyes, just because it makes brown eyes look richer. It's also great for warm skin tones and just a great pop of color for the eyes, that's not overboard specially now that the weather has recently become gloomy. So if you've been wanting to try something different but don't wanna go too extreme, here's a playful take on pink and purple eyes. Totally wearable and flattering for your Filipina brown eyes 🙂 — It also makes green eyes brighter, Blue eyes more vibrant.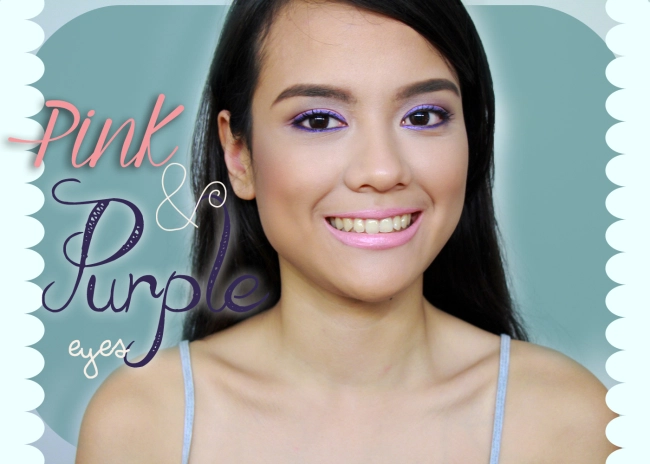 Few things in this video: I like to raise my model/client's eyebrows when I'm doing her eye makeup because that helps my brush reach every inch of the skin on the eye, I find that that prevents skips on the eyeshadow. Don't worry, I wasn't tugging or pressing too hard. You'll notice also that I didn't set her foundation in the video because she had dry patches in her skin, If I had set that with powder, her skin would look flat. If you have oily to combination skin, you can of course go ahead and set your liquid foundation with powder 🙂
Although I did use an invisible powder to diffuse her blush 🙂 — Speaking of that blush, I was so surprised at how pigmented that stuff was (is). I had tried the Baked blush in Luminoso and I did use that with very light hand, this is a different formula, I guess. I love it!
Here's the finished look. It's a great, fun makeup you can wear during the day,  probably a date, or shopping with your girlfriends.
Products used:
FACE
L'oreal True Match Foundation in N7
Amazing Cosmetics in Medium Golden
Benefit Cosmetics Hoola Bronzer
RCMA Colorless Powder
Milani Rose Blush in Romantic Rose
Eyes
Maybelline Color Tattoo Cream Eyeshadow in Barely Branded
Urban Decay Glinda Palette – Magic and Tornado
TheBalm Balm Voyage Palette – B3 and C3
MAC Mineralized eyeshadow in Odd Couple
Avon Glimmersticks in Purple
In2It Eyebrow palette
The Face Shop Freshian Volumizing Mascara
The Face Shop Color my Eyebrow
Lips
Lime Crime Opaque Lipstick in Coquette If you feel Coquette is a very bold nude lip for you, you can try Nyx Soft Matte Lip Cream in Milan or Stockholm 🙂
You can always change it up and make it more evening appropriate or formal.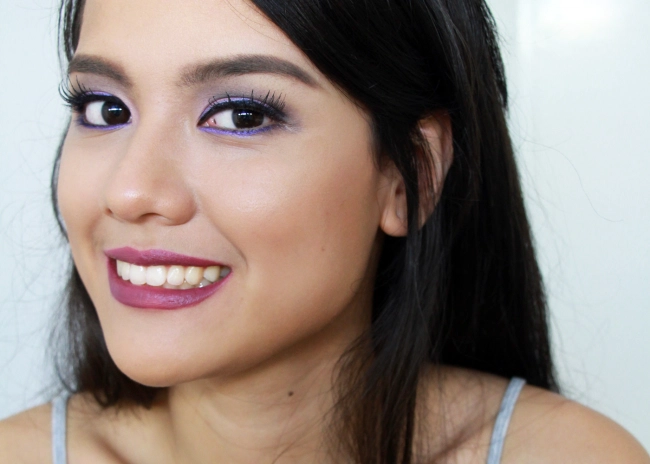 You can build up a darker crease color, add some false lashes and pair it with the same lips or you can also try it with your choice of a darker lipstick. If I may suggest, something plum or a rosy kind or plum. (Zel is wearing Wet N Wild Lipstick in Spiked Rum) Whichever is more your suitable for your taste and preference.
Finally, something I'd like to point out because this is my second video with a model instead of myself: I do a regular sanitation on my makeup, brushes and tools. It's very important for you to do that as well regardless if your makeup is for personal use only. It is even more of paramount importance that I do not miss that because I am a professional makeup artist and I use my makeup on various people.
If you'd like to know how I sanitize my stuff, hit me up on the comments section and then I'll share it with you guys 🙂
I guess that's all I wanted to talk about on this post, I hope to see your recreations of this look. You can follow me on instagram: http://www.instagram.com/giabeybeh, @reply me so I can see your posts or hashtag #beautybygialalu 🙂 — You can also check me out and Follow me on Facebook, I post regular updates, contests and promos there 🙂
Don't forget to check out my YouTube channel and subscribe if you haven't already!
Thank you and I hope that this is helpful to some of you, I will see you again next time.
XO,
Gia