If you're a fan of the Sleek Makeup iDivine palettes and have been watching out for all the new releases, I wanted to share with you guys that Updated Trends / Beauty Corner PH already has the Limited Edition Del Mar palette!
The face of the packaging looks like this, it's a Sleek, black, smooth, rigid and sturdy plastic/acrylic packaging, you can find a good sized mirror inside the palette, too. Which I think makes for a good combination for travelling.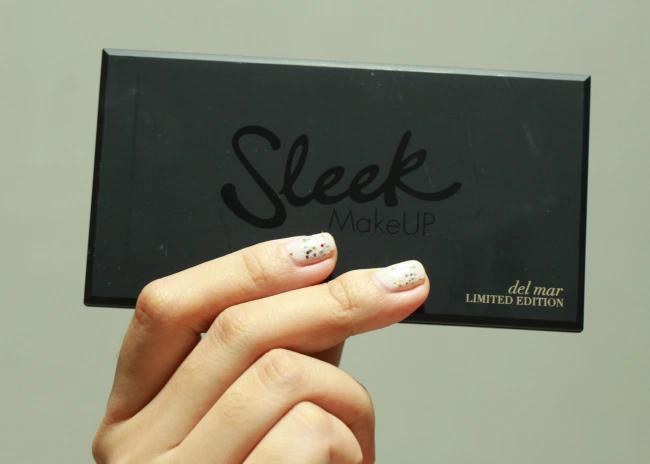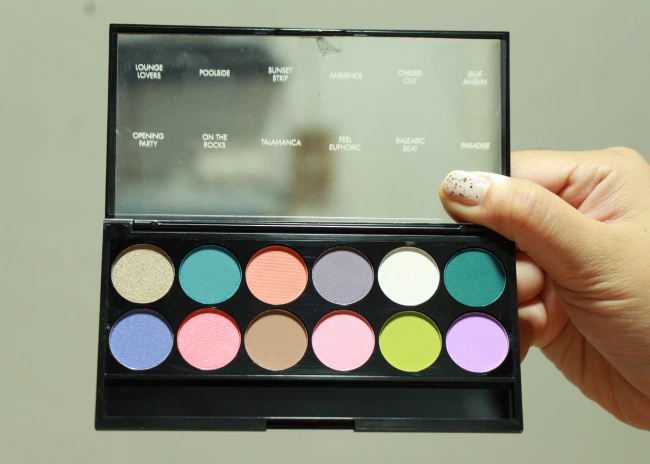 Like all the other iDivine palettes, this one also comes in 12 eyeshadows, with really fun, summery colors, there's a bunch of purples and teals in here, thrown with some coral and pink a nice avocado color, a matte white with a faint hint of white shimmer and a very shimmery taupe, which is my favorite in the palette.
I wanna go very quickly and describe for you guys each eyeshadow from the palette starting from Left to Right from the Top Row of the palette.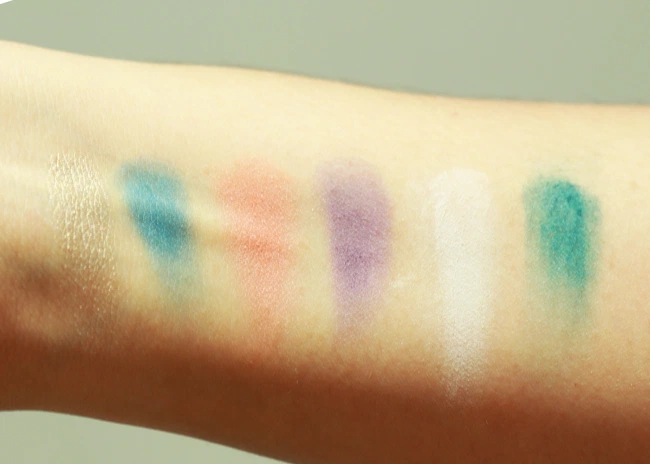 Lounge Loves – This is my favorite one, it's a shimmery, cool toned taupe color with silvery-gold reflects that is just an amazing color for highlight (I'd use this as a cheek highlight), all over the eye, as well. This is very flattering for all skin tones being that it is neutral. Pigmentation was good, texture was, too. IT wasn't chalky or powdery at all.
Poolside – is quite similar to Makeup Geek's Poolside eyeshadow. it's a blue color with a little bit of a green tone in it. It's a little sheer on first application, i had to layer it at least 3 times to get a nice color payoff, but it is matte and the texture is really nice and creamy and not powdery despite the buildup.
Sunset Strip – is my other favorite from this palette. It's a warm tone salmon color, that's almost like an orange, but to me is actually more of a warm peach color. It is matte, but it looks like it has some sort of iridescence in it, too. The texture is great, no fall out and very easy to blend.
Ambience – is a taupe-ish kind of lilac, it's got a sort of ashy or grayish undertone going on and it's also matte. Some fallout, and not as pigmented on first application, but definitely buildable and blendable.
Chilled Out – is a white eyeshadow that's got a light silvery-pink iridescence to it. I thought this was really chalky if you swatch it with your finger, but it goes on really nice when used with a brush. In comparison to the Gladys white eyeshadow from the Limited Edition Respect palette (also from Sleek) this was prettier. Gladys White was really just a plain, flat white matte eyeshadow and this one could make a really nice highlight.
If you're on the paleside, you can maybe even use this as a cheek highlight.
Blue Marlin – is a teal color that's more on the green side, it is very pigmented, blends easily and not powdery at all.
Next up, again from Left to Right from the Bottom Row.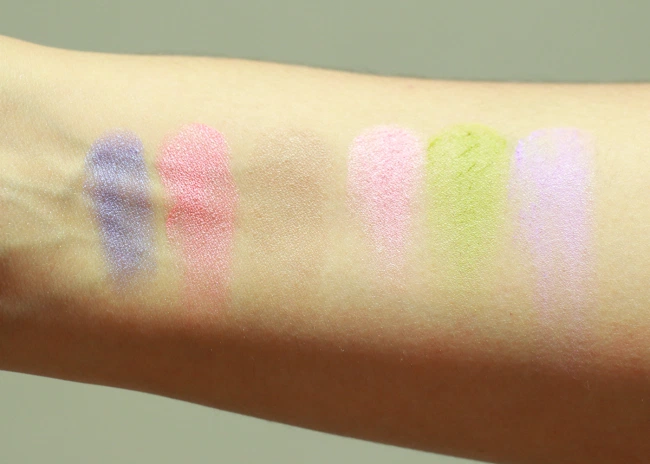 Opening Party – this one is a nice duochrome purple eyeshadow with some blue and green reflects. It definitely needs a primer to set it down and as much as it is pretty, the pigmentation is not so good. like the other shadow, I had to layer this one to get a decent color pay-off. some Fallout going on, which was not fun because there's some shimmer in there, too.
On the Rocks – is a bright coral with some fine gold shimmer in it. It makes for a nice blending shade, I think. The pigmentation on this shade is great, too. Although it diffuses very easily when you blend it out.
Talamanca – off the bat was the first color I was interested in when I saw this palette. It looks to be a matte, creamy coffee brown shade and I hate to say this about this eyeshadow, because I have loved sleek eyeshadow palettes since I discovered them, but this is just plain disappointment in a pan. There was nothing. No color pay-off at all. Nothing. I tried it over an eyeshadow primer, there's nothing, tried to wet a brush, to get it to intensify, but it was still disappointingly faint.
Feel Euphoric – it appeared to be a typical pink eyeshadow, but this one turned out to be impressive. It's a very buildable shade, the finish is almost comparable to an urban decay eyeshadow. The catch is, this was when I applied it with a damp brush. without it, the shadow was just a blue-toned pink, eyeshadow with fine, silver shimmer.
Balearic Beat – is a very vibrant, avocado color. It's better used with a brush than with your fingers, it's a little bit powdery but it's not a problem to dust off, no big deal.
It's another one of those shadows (ie. Feel Euphoric, Opening Party, Paradise) in this palette that needs to be used damp or with an eyeshadow primer for better color pay-off.
Paradise – is a true lavender color. As previously mentioned, this eyeshadow performs better if used with an enhancer. On it's own, the pigmentation is just very mute, it's a little bit powdery, but the texture is smooth and blendable.
Below are some looks that you can create using the Del Mar palette
Feel Euphoric on the eyelid extending above the crease. Ambience on the crease. Opening Party on the lower lashline, diffused with some Ambience. 
Here's a more neutral combination that you can create with this palette 🙂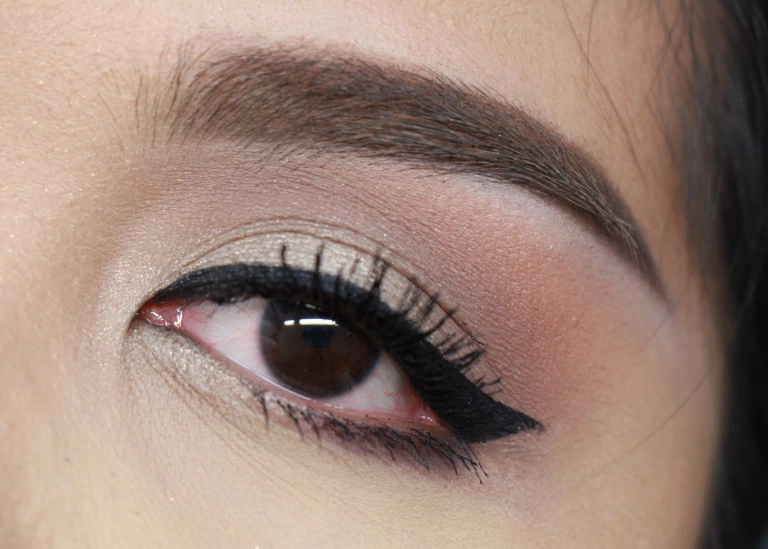 Lounge Lovers on the eyelid. Sunset strip on the crease as a transition color. Talamanca on the crease, blended with Ambience.
At the bottom, I used Lounge Lovers on the inner corner, (I cheated, I used Roberta Black from the Respect palette in the outer corner)
And now, finally here's what I think about the palette: I was excited about this one when it arrived because 1.) This is limited edition 2.)  I'm a fan of Sleek Makeup. I have the majority of all the iDivine palettes which is why I realize that; this palette is a little bit of a let down.
Almost all of the shades in this palette required a booster (water or MAC Fix+) or an eyeshadow primer to perform, at all. The good thing about them, though is that they are blendable and smooth as all the other eyeshadows from other iDivine palettes.
Would I recommend this palette? — I would,  because the colors Lounge Lovers, Sunset Strip, Chilled Out, Blue Marlin, Opening Party and Balearic Beat are great colors that aren't in other Sleek palettes. the quality in some of them may not be quite as desirable, but it is limited edition and would make a really nice part of your collection. — Do I think you'll be missing out if you chose to pass on getting this one? – I don't think so. It's completely up to you. 🙂
So, there you go! That's it for me and my review of the Liimited Edition Sleek Makeup iDivine eyeshadow palette in Del Mar. I hope that this is helpful to some of you. Do let me know if you have tried this palette, maybe you have a suggestion on how else I can use the shades in this palette. Thanks and I will see you all again next time!
XO,
Gia