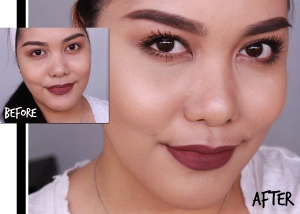 I'm back with a new video and it kinda was a little while since the last time, but it's just been busy lately and a lot of fun things going on.
It's tiring and stressful on the coming and goings when you're a makeup artist, but it's always great fun when you finally start working on people's makeup and you see how excited they are after and just the over-all confidence it brings to them after seeing themselves for the first time, after the makeup.
Anyway! Enough about the chitchat 🙂
This video just shows how I switched from one makeup look to another.
I don't know about you, but I get a lot of days when I feel like putting on a different makeup look after I get done with jobs or errands.
The day I filmed this video, I was out in the morning to run some errands, put on my eyebrows (and I ended up using the wrong pencil because I was in a hurry) and applied lipliner all over my lips, put on my sunglasses and went out the door.
When I got home a couple hours after, I realized the makeup I had on was not enough or wasn't nice enough for me to go out with again (because I was meeting a friend for a movie) So, I decided I'll do this video, somewhat like a Get Ready with me, minus the talking and the showcasing of outfit. :p
You'll notice that I've kept the eyebrows and the lips but I did wash my face and wiped it for good measure before I started on the foundation.
Enjoy!
Oh and you can skip to the last bit to check out the alternate look that I ended up going for :p
If you liked this video, please give a thumbs up and subscribe to my channel if you haven't already.