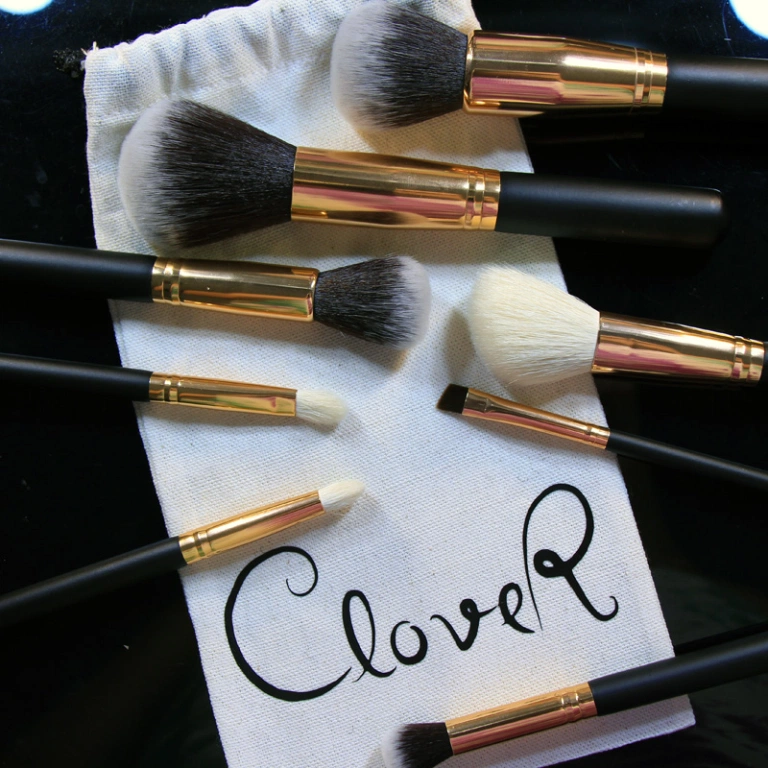 This set is inspired by the Zoeva brushes' Rose Gold set and I wish that I had compared them side by side, but I'm still being waitlisted via luxola.com for my own set so in the mean time, I'm reviewing them separately! 🙂 What I'll do it is I'll identify the brush first, tell you the material and it's purpose and what I think about them, sound good? — Okay, here we go!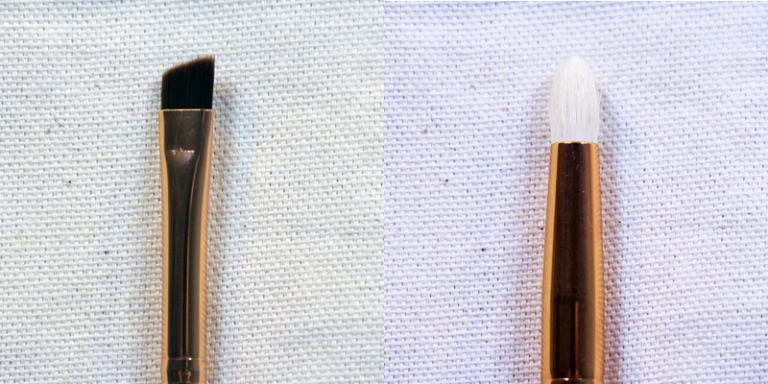 Eyebrow Brush – is a stiff, angled brush with soft synthetic bristles that are packed sufficiently to distribute product on the eyebrows.
What I think: This brush is my least favorite in this bunch, It is firmly packed in the center, but once you to try to blend the product into brows, the bristles bend way more than I'd like it to. I personally like eyebrow brushes that have shorter, firmer bristles. I find that those kinds of brushes, like the Angled brush from Suesh and the MAC 266 are easier to work with, or at least that's just my preference. I would say, this brush works better with cream or mousse products like the Nyx Eyebrow Gel or Make Up Forever Aqua Brow than powders, I find it also didn't help blend the pencil when I tried using that on the eyebrows.
Pencil Brush – it is a goat hair, pencil brush that's tapered and is designed to apply, buff or blend eye makeup for smaller areas.
What I think: The bristles are soft, nicely packed and the handle length is ideal. Here are the but's though… the shape is too big than what I would normally prefer for a pencil brush, I'd like it to be smaller and shorter, perhaps firmer. I like brushes like this to be really precise to be able to get into the corners of the eyes, and for blending kohl pencils and stuff like that. However, I have a few pencil brushes in tow, so I don't really mind a bigger sized one.
Another thing I'd like to mention is that after the first time I washed it, it lost it's pointy end, and instead it became a dome top pencil brush, which is kinda sad. On the plus side, it worked well as a precise crease brush, great for those cut-crease makeup looks that's why I'm not completely crossing this brush out.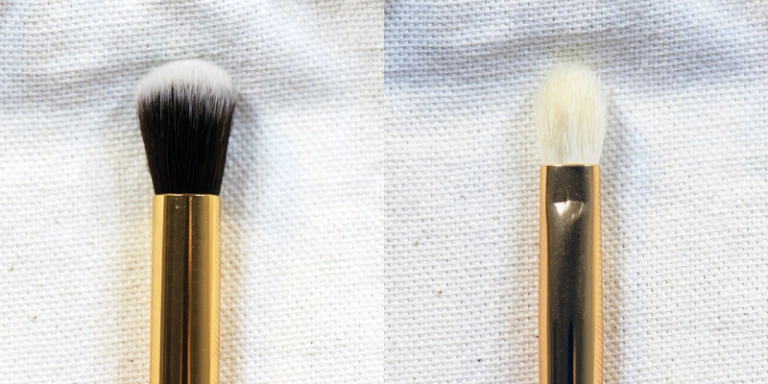 Concealer Brush – Synthetic bristles designed for applying concealer, correctors and other cream products.
What I think: The bristles are soft, packed nicely which is why it's great for cream and liquid products.
This is one my top 3 favorite brushes in this set. I've tried using this brush on cream concealers and correctors, I've tried it with a liqud foundation, tried to use it to apply silicon base/primer for airbrush and I've tried it as an under-eye setting brush, an all-over eyeshadow brush and each time, it worked like a dream! It's such a great multi-tasking brush. I'd definitely get more of these if they were sold separately.
Blending Brush – Goat Hair bristles designed to blend, buff and soften eyeshadows.
What I think: This is very reminiscent of the MAC 217 in terms of shape and form. However, it is less fluffier and a tiny bit shorter. It does what you're expecting it to do, which is blend eyeshadows, it's soft and nice unlike other goat hair brushes that are stiff and harsh on the eyelids. But then again, because it is quite short and a little bit more compacted, it doesn't allow for much movement for it to be able to blend the eyeshadow for those who have bigger eyelid areas like me. Having said that, I feel like this brush will work extremely well for those of you who have smaller eyelid areas or those with hooded eyelids.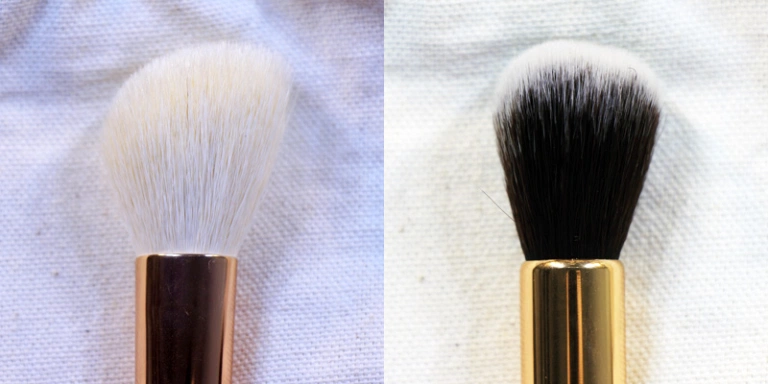 Blush Brush – Goat Hair bristles designed for application of blush / bronzer or other powder products.
What I think: I've always been a MAC 187 girl for blush and highlight because I love the movement, finesse and application. It leaves just the right hint of color, and I'm all about subtle cheek colors and blush.
But this brush is soft and fluffy, it doesn't pick up a lot of product which in turn, doesn't end up splotching your face with color. It blends powder products so well and great for those of you who are still searching for a good blush brush. Downside? It's white and it's not gonna stay white forever haha!
Highlight / Contour Brush – Synthetic bristles, designed for precise application of highlight and contour.
What I think: This is such a great brush! It's perfect for applying makeup around the undereye area, hollows of the cheeks and tops of the cheekbones, It's the perfect size and shape and quite honestly is very versatile, too. I've tried using it with cream and liquid products and it works just as great. Highlight products are formulated differently than foundations and concealers, but I find that this brush didn't create chunks or streaks even if you use it over and over without cleaning. In comparison to the Real Techniques Contour brush, this brush stayed functional after 4 to 5 times that I've dipped it and used it on various products fordifferent models. No streaks, chunks or weird build up of product on the face. With the RT Contour brush, I find that I have to spot clean it after two uses because it soaks in the product and it tends to streak. I love, love this brush!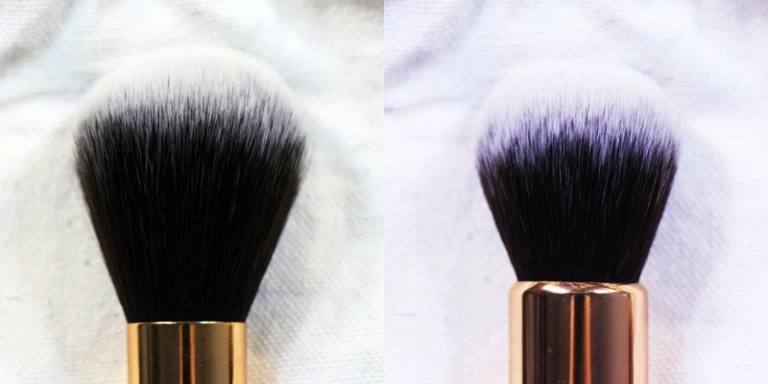 Powder Brush – Synthetic bristles designed for powder products.
What I think: It's a good sized powder brush, it's great for setting your foundation, it's also great for bronzing and stuff like that. It's soft, dense but it's got a lot of movement which makes it great for it's purpose, but because this brush is really soft, I use it in place of a fan brush, to sweep off eyeshadow fallout or maybe to apply powder around the neck or the body.
Buffing Brush – synthetic bristles designed for buffing, blending and pressing face products to the skin.
What I think: Buffing brushes, to me are like hybrids of Kabuki brushes which were originally used for packing on product on the face. However, Buffing brushes are designed to pack product, at the same time create a seamless finish and coverage all over the face. Which is why in the history of buffing brushes, I personally think that the Sigma F80 is the one to beat in so many levels.
I'm not comparing this brush with the Sigma F80, because I don't think it's gonna compare, but I think that this brush is such a good one for its price. It's soft like all the other brushes in this set, the bristles are a great match for Liquid, Cream, and Powder but I think that it is best used with products with really loose liquid consistency such as silicon primers for Airbrush makeup, MAC Face and Body foundation, MUFE HD Foundation, Dior Skin Forever and stuff like that. I always feel like these products are soaked so quickly into whatever tool I use therefore I end up using more. With this brush, I didn't have that problem. It didn't soak up the products, it applied so seamlessly, absolutely no streaks and brush trails. It's also great for building up products, it doesn't cause the product to cake, but my favorite thing about this brush is that no matter how much I buff the product into the skin, I find that I'm not taking away the product off of the skin, instead it helps the product to really get worked into the skin that's why you end up having this amazing finish.
Having said all that, I think I would like give these brushes a 7 out 10. For Php 970.00, which is relatively inexpensive for brush sets with such good quality. I think that it is very much well worth the price and I would even buy some of the brushes separately if they were available. This set includes 8 full sized brushes, the face brushes have an approximate length of 3.5″ to 4″ for the handle, while the eye brushes have an approximate length of 5″ each for just the handle.
It's packaged in an eco bag / pouch that you can use to carry the brushes for traveling or for storage, you may also use the pouch separately for your own purpose. Also, The face brushes come with brush guards, and that's always a great extra to include as a care and maintenance feature for the brushes.
I would say, my top 3 favorite brushes in this set are the Buffing Brush, Highlight / Contour brush and the Concealer brush, just because they are great multi-tasking brushes and i love brushes like that.
and if there was one brush from this set that I can absolutely do without, it would be the synthetic angled brush. I hope they can improve on the quality of this brush because it honestly has got some potential.
I purchased them via instagram at @beautyunlimitedph, she ships via JRS Express all over the Philippines and I think international shipping is also available now, I believe
That's it for me and my review of the Rose Gold set, I hope that this has been helpful for you in trying to decide if you're going to purchase this set or not, again this is my personal opinion and experience with the brushes and I would love to know what you think about them if you have this set, as well.
Thanks guys and I will see you again next time!
XO,
Gia