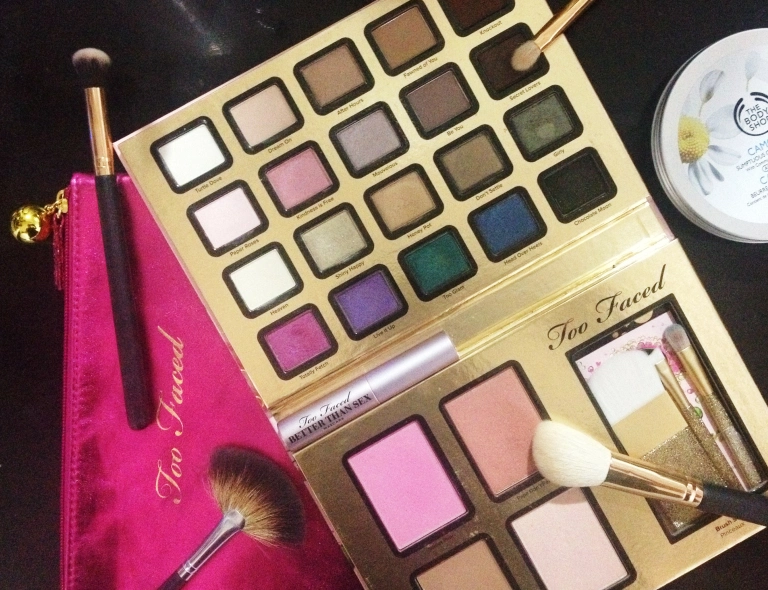 Hey everyone! Today I will be sharing with you my thoughts on the Too Faced Everything Nice Palette that I had received last week.
I had ordered this from @prettymoody on Instagram a month ago (more or less). It is originally priced at $56 and this is a Sephora exclusive. The online seller where I got it from sold it to me for P2,995.00 which is only expensive by a few hundred pesos if you computed for it's current exchange price. This was the cheapest I found online for this set, so that's why I ordered from her.
This set is directly comparable to Too Faced's 2013 Holiday Palette called A Few of my Favorite Things, which I wasn't able but is basically the same in the concept of the inclusions, but you know, different color scheme and color selections.
So, the Everything Nice palette is a limited-edition, Holiday palette which is part of Too Faced's Holiday Collection 2014, there are other items included in this collection, but I always make it a point to get only 1 item from some of my favorite makeup brands whenever they release their holiday collections. This was the most appealing to me, just because it looked to me like a great value for money with everything else that's included in the set.
And speaking of inclusions, this set has 20 eyeshadows, 2 blushes, 1 bronzer and 1 highlighter. It also includes a 3 pc. teddy bear hair makeup brushes, as well as a look card which you can use as reference when you want try eyeshadow combinations from this palette.
The shadows are arranged in such a way that they have a color family they belong to, which to me, makes it easier for you to identify which ones are more complimentary, as compared to last year's A Few of my favorite things palette, which looked to me like a collection of random colors for a palette.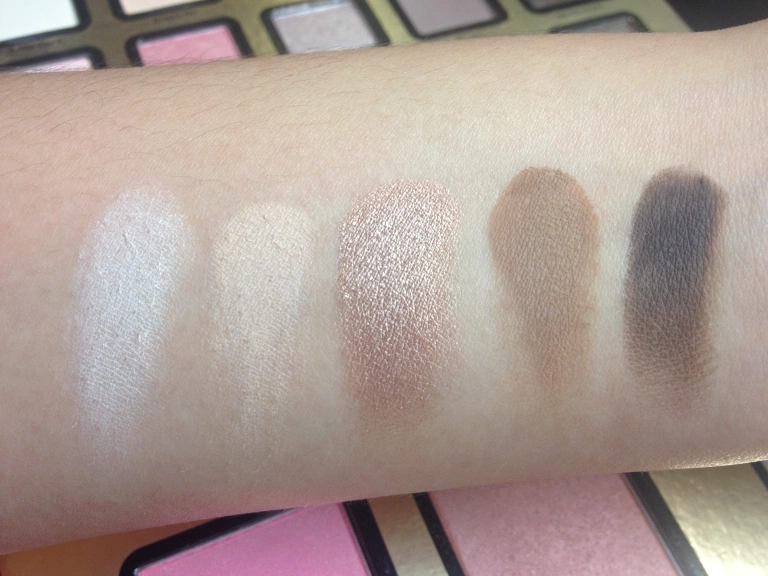 The First Row is comprised of warm neutral colors, We have the colors: Turtle Dove, Dream On, After Hours, Fawned of You and Knockout
The better shadows in this row in terms of pigmentation are the 3 right most colors which showed up nicely upon first application, the first 2 shadow are sheer when swatched, but they gave a satin opacity once applied on the eyelids. I found that these two are best used as a base or as highlighting colors. Fawned of You had a little kick-up on the powder when you swirl a blending blush into the pan, but nonetheless, fallout under the face was minimal to none.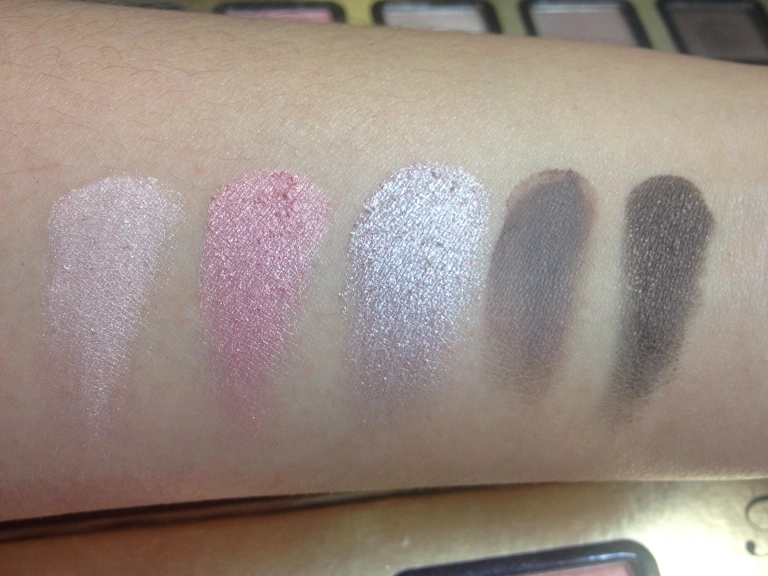 The Second row is the pinky-mauve, cooler neutrals: Paper Roses, Kindness is Free, Mauvelous, Be You and Secret Lovers
The best in terms of pigmentation in this row are the shadows: Secret Lovers and Mauvelous. Be You needed a second pass to show more color, but all three are nice and soft. Kindness is Free is a little gritty, but the pigmentation is good. Paper Roses, is the most sheer in opacity and pigmentation, with a more silvery sheen to it. It's not bad, it just might require to be used wet if you want it to show up more, otherwise, it's a great subtle pink brown bone highlight.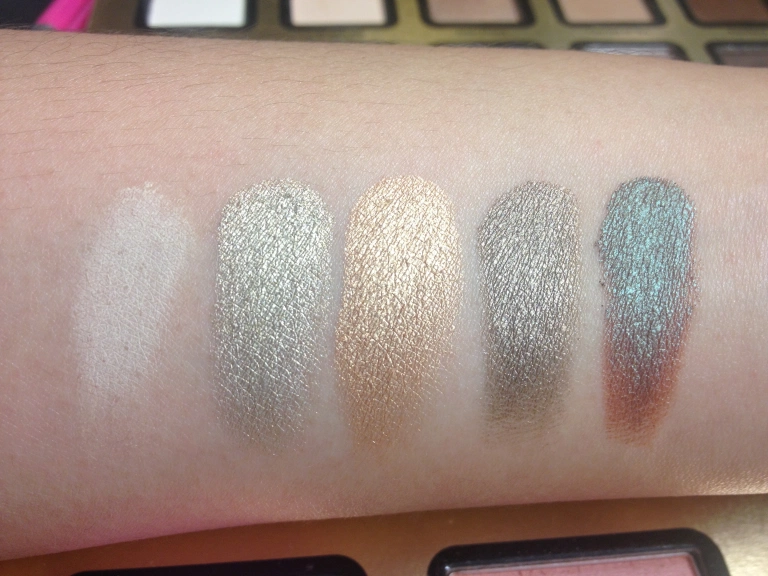 The Third row is mostly the goldy, olive toned colors: Heaven, Shiny Happy, Honey Pot, Don't Settle, and Girly.
The only less pigmented shade in this row is Heaven, which is a soft yellowy-cream color which is actually my favorite one to use as a brow bone highlight or as an over-all shadow to even out the eyelids. The shadows in this row are very pigmented and creamy in texture, with the exception of Shiny Happy which was a little gritty and dry, but nonetheless, great in pigmentation and color.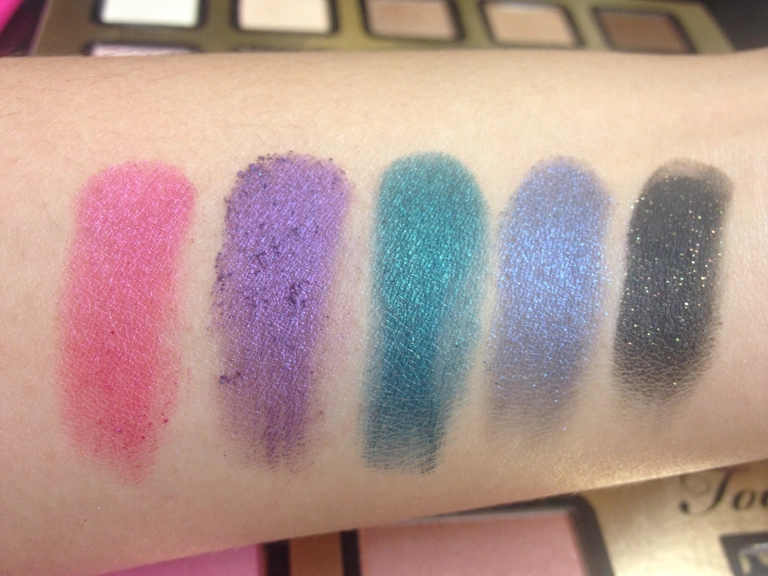 The Fourth row are the jewel toned, bright colors: Totally Fetch, Live it Up, Too Glam, Head over Heels, and Chocolate Moon.
If you were expecting this row to be a perfect, creamy, over-all best row in terms of color pay-off… you will find yourself to be wrong. The 3 leftmost shades were the most pigmented, Head Over Heels was a struggle to swatch and to apply on the eyes because it wouldn't show up, Chocolate Moon is a little powdery, but it is forgivable, the gold flecks are something I've seen somewhere… which means, this color isn't unique.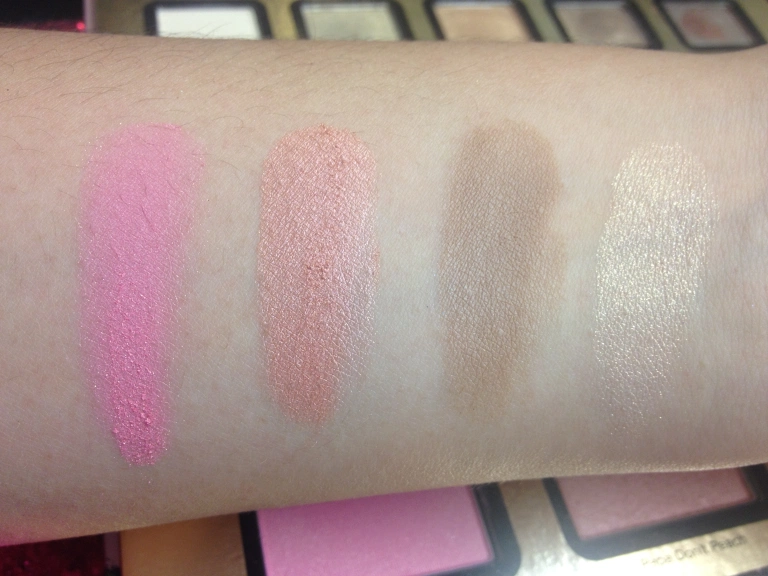 Finally here are the face products: Sweet Pink Blush, Papa Don't Peach Blush, Chocolate Soleil Bronzer, Inner Light Luminizer.
To tell you the truth, the reason why I was so sold on this palette before I even received it is because of the face products. I have never used any of their face products which is why I thought this would be a great way to try them out.
I was (am) very impressed with the Chocolate Soleil bronzer, which is practically one of the biggest cult favorites in the beauty world, It is a little powdery, though, but the pigmentation, texture and smell ❤ was totally something I wasnt disappointed with.
However, the blushes were nice on their own, but I found that they would easily get muddy when used along side the bronzer. The luminizer is not-at all my preference because it is pinky-gold in color and turns out looking like a glittery mess. The blushes leave a better highlighting sheen on the cheeks than the luminizer. Also, I tend to lean towards, cream, yellow, gold-toned, maybe warmer pinky browns as highlighters, because I found those to be more flattering for most Filipina skintones.
Over-all I thought this palette was so worth the money, it makes me happy that the shadows in this palette performed so much better than the ones that were on the Joy to the Girls palette which was also part of Too Faced's 2013 Holiday Collection. I'm also pleased to say that I don't regret not getting last year's A Few of my Favorite Things, because the eyeshadows on this set is better in terms of color selection, quality and over-all value. I would advise you to use some of the shadows wet, or lay over a primer, but other than that there are no specific struggles in application and blending when I wore the eyeshadows.
I think, the face products included in last year's palette were better. just because the luminizer sucks on this one that and I wish it could have been the Sun Bunny or Milk Chocolate Soleil Bronzer, instead. Also, I want to mention that the teddy bear hair brushes were not included in last year's set but I think that this palette could have done even without it, because I found that these brushes are so small that you can't really do anything decent with them other than brow bone highlight, and the staining on the brushes, don't come off.
Oh! and the bag, totally useless because it can't carry the palette, and I don't like pink so I won't be using that. Finally, the Better than Sex mascara that is included in this set is, nothing impressive. I still love their other mascara called Lashgasm better.
I think that's about it!
Again, do check out @prettymoody on instagram and Facebook, i think. Her pre-order batch is currently open so if you have a few things you wanna order off overseas, check her out and inquire.
I hope this was helpful to some of you exploring the Holiday 2014 Collections, I have the Smashbox On the Rocks Deluxe Palette, Lorac Mega Pro, Urban Decay Vice 3 Palette and the Tarte Sweet Dreams: Away Oui Go palette on the line to share with you guys.
Please check out my youtube channel, subscribe while you're at it and I'll see you again next time!
XO,
Gia