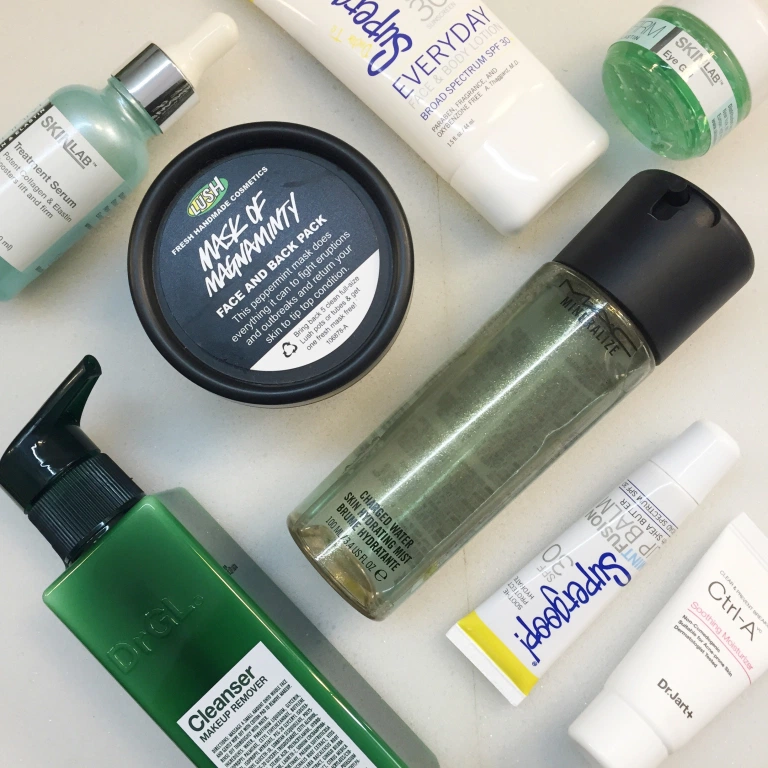 Step 1: Cleanse
On days when I'm wearing makeup, I alternate between my favorite MAC Cleanse-Off Oil and my new discovery from
Luxola.com
, which is simply called a: Cleanser from the brand Dr. GL, that actually comes in a step-by-step skincare product system.
I love that this Cleanse off cream is very gentle on the skin but tough enough to get rid of stubborn makeup in my undereye area, even gel eyeliner and waterproof mascara. Plus! It smells like a nice and clean, freshly washed linen. 🙂
If you wanna know what my daily facial cleanser is, though. It's the L'oreal Revitalift foaming cleanser. It's been my best friend for more than a year now and it does an absolutely great job in preventing my skin from getting pimples and controlling my hormonal acne (it's how I know I'm getting my period… I breakout.)
Step 2: Toner
My daily toner is the L'oreal Revitalift Milky Toner that has Anti-Aging and Firming Properties. It gets rid of deep-seated dirt and stubborn makeup (if any is left). However, I find that the MAC Charged Water (Youth Aura) to be a great skin refresher and [I don't think that MAC claims this; but] I feel my skin is tighter and firmer with continued use of this product.
Step 3: Eye Creams
I used to pair my Clarins Defining Eye Lift with the L'oreal Revitalift Eye Cream, but I thought my Eye Serum was too expensive for my lifestyle so I promised myself to just finish my last backup bottle and find an alternative. I stumbled upon the brand SkinDerm at Beauty Bar and they havea full line of skin care, and it got me at Elastin & Collagen. It actually claims to be a cream, but the the formula feels like a serum [and looks like it] so I continue to use it in conjunction with my L'oreal revitalift eyecream and I'm so happy that they seem to be compatible.
Step 4: Serum
It sounds like a lot. But the road to beauty isn't easy 😉 Many people ask me what a serum is for and can they just skip it because it's just another step, not to mention another "expense". To simplify, a serum has properties and ingredients that boost the efficacy of your moisturizer. You can skip it if you find your moisturizer works enough, but if want to "super charge" your moisturizer, get your hands on a serum! The serum I'm currently using is also from SkinDerm and like the eye serum, this one has a potent boost of Elastin and Collagen, so I'm all for that!
Step 5: Moisturize
When you turn 25, it's smart to start working on your skincare. I honestly started earlier than that but I wasn't as religious as I am when I turned 25 and the signs were starting to show.
I have jumped from one brand to another and found that only a few worked best for me. I was hooked on Clarins Multi-Active [Line] for a couple of years, but I find that recently it has started losing efficacy, so I switched to a few other ones from The Body Shop (Vitamin C line, the pink packaging) and that worked well too, to hydrate my skin, but I guess because they are organic, they went bad sooner than I was able to finish an entire 30ml tub. I switch between the L'oreal Revitalift (summer) & L'oreal Age Renewal (rainy season & cooler months) — depending on the weather just because of the formula. But those two are good with maintaining the smooth texture, elasticity and even complexion. I recently received a sample of the Dr. Jart Ctrl A Soothing Moisturizer for Acne Prone skin from
Luxola.com
and I find that this pairs really well with my Lush Mask of Magnaminty when I have hormonal acne.
Step 6: Scrub, Mask, Exfoliate
At least once a week, treat your skin to some deep cleansing. Masks, Scrubs and Exfoliators are good for unclogging pores and renewing stubborn deadskin. You will notice your skin to be more even, smoother and free of (pimple) marks and other discolorations will eventually lighten. My absolute favorite is the Mask of Magnaminty from Lush. This mask has a (strong) cool tingle on the skin, and it smells heavenly minty! It has bits of aduki beans which act as a great exfoliant, just massage it over your skin before you rinse it off! The china clay that's the dominant ingredient of this mask does the job of pulling out deep seated dirt from your pores and the bentonite gel keeps your pores nice and tight. Doesn't all that sound lovely?
Step 7: Sunscreen!
You know how they say; prevention is better than cure? The same is true with skincare. If you don't know by now. The sun is the number 1 cause of skin diseases, deterioration and aging. Protect your skin with a daily spf. Make sure you use one that protects you from UVA & UVB rays!