I was very excited to find that Katy Perry has released a full range of Matte Lipsticks with Covergirl. I saw them going around on instagram first and then I started looking at my local drugstores to see if they have released.
I first saw the display at Walgreens but I didn't pick up any then just because I had other things to buy. Probably for the best, because when I first saw them, they were on display and for sale at $9.49.
I came back a few days later and found some of them on display and so I got three colors, which was perfect, because they were on special at $7.99 (with my Walgreens card), if I remember correctly.

I found the rest at Target at $6.99 each, and they had the full range and more pieces per shade in stock, compared to Walgreens, which only had like 1 or 2 pieces per shade, and they didn't have all the colors.
They are supposed to be available at Walmart, Rite Aid and CVS too, but in my experience, if you want to see all the colors and if you want to grab all of them, you're better off finding them (in stock) at Target.
The lipsticks come in this special limited edition white tube packaging with a matte sort of rubbery finish cap, with the label of Katy Kat Matte on one side, and the other side says Covergirl ❤ Katy Perry. The bottom of the lipsticks say the name of the shade and a color representation of the actual lipstick, which I think is very helpful when you're trying to decide which one you would like to wear but really, I just like it because it's pretty 🙂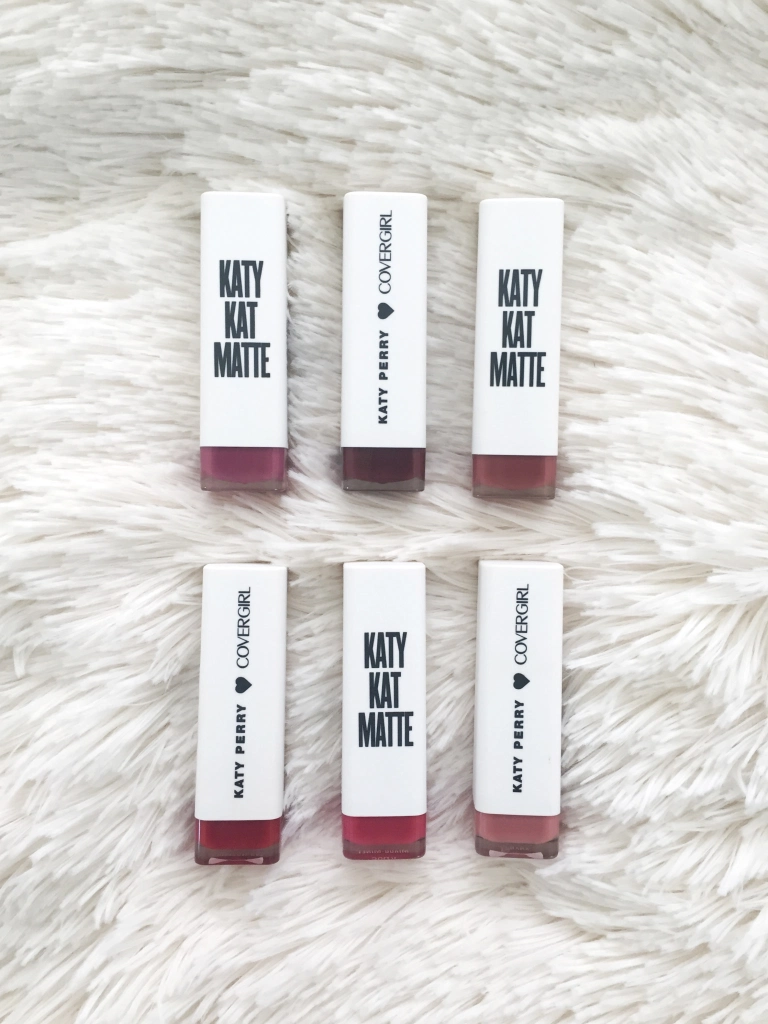 Now, to the actual lipsticks!
They look like your typical Covergirl (Colourlicious, Lip Perfection) lipsticks. They have a sort of faint cake batter / vanilla scent, slightly makeup-y, that only stayed on for a few minutes, which I would say is an improvement because I can remember Covergirl lipsticks to smell very makeup-y, like old makeup and I just wasn't a fan of that.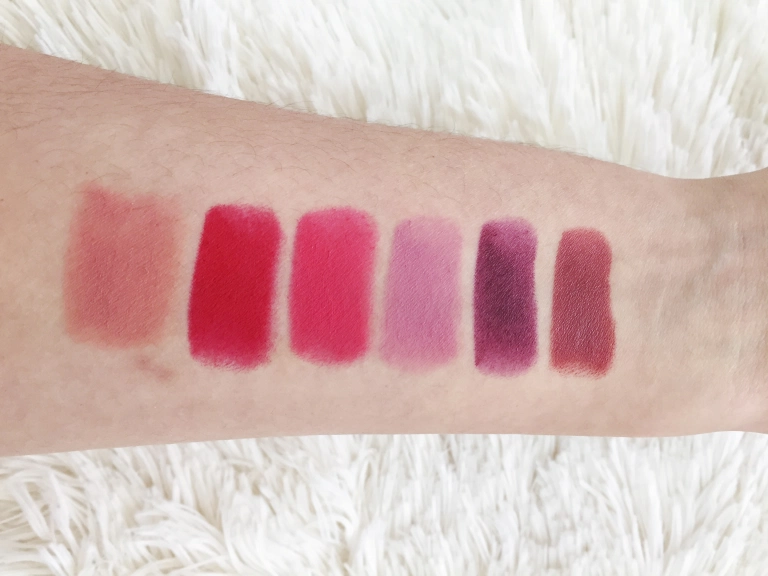 These lipsticks claim to be "matte" and they are, in terms of the color as there is no observable hint of glitter or shimmer or frostiness in the lipsticks. However, if we talk about the finish of these lipsticks, they are more of a satin than your typical matte. In saying that, they don't feel drying but not exactly nourishing that it feels like a lip balm. Also, about the texture. I find that these have like scratchy little bits in them which adds to the already streaky color pay off, not to mention it's slightly uncomfortable on the lips.
It takes about 4-6 passes before you get a full color pay-off, with the exception of one shade, Catoure which only took 2 passes to get the full color.
My favorites are easily Catoure and Sphynx, being neutrals they're very easy to work into any of your makeup looks and for some reason they are more pigmented that the others. My least favorite would be Maroon Meow and it's kinda sad because I really like the color, I just don't like how streaky and patchy it is even after maybe 8-10 passes.
Of course, the application and staying power improves if you use a lipliner underneath as with any other lipstick but I highly recommend you use the more brightly colored ones with a pencil because they sort of bleed through the lines overtime. I found that Cat call stained my lips a little bit, while Crimson Cat and Maroon Meow didn't. They  each stayed an average of 3-4 hours on my lips, but they completely came off when I ate and it didn't stand a chance when I ate a burger, hehe :p it all just came off after my first bite (I see you, Crimson Cat)
Over all, as far as my former experiences with Covergirl lipsticks, I'd say that they have improved. However, if I'm going to be completely honest, there was not much about these lipsticks that made me fall in love with them other than the packaging. The lipsticks themselves are not smooth as you apply them. The small beady things that I mentioned irks me, I had to use a lip brush to smooth out the streaks. The staying power isn't there, the scent is still something I'm not completely on board with and it's just more cons than pros for me that I could personally identify with.
I'd say there are better options in the drugstore if you are looking for "matte lipsticks" that are actually matte, such as the Milani Colour Statement Matte Lipsticks ($4.99), L'oreal Matte Colour Riche Lipsticks ($8) or the Nyx Matte Lipsticks ($5.99).
That's it for my review on the Katy Kat Matte Covergirl Lipsticks by Katy Perry. I hope that this was helpful to some of you in deciding whether to get or not these lipsticks or just over all informative of what to expect about these lipsticks.
Thank you for your time and I will see you again next time!
In the mean time, please check out my new video and give me your thoughts, suggestions maybe for the next video 🙂