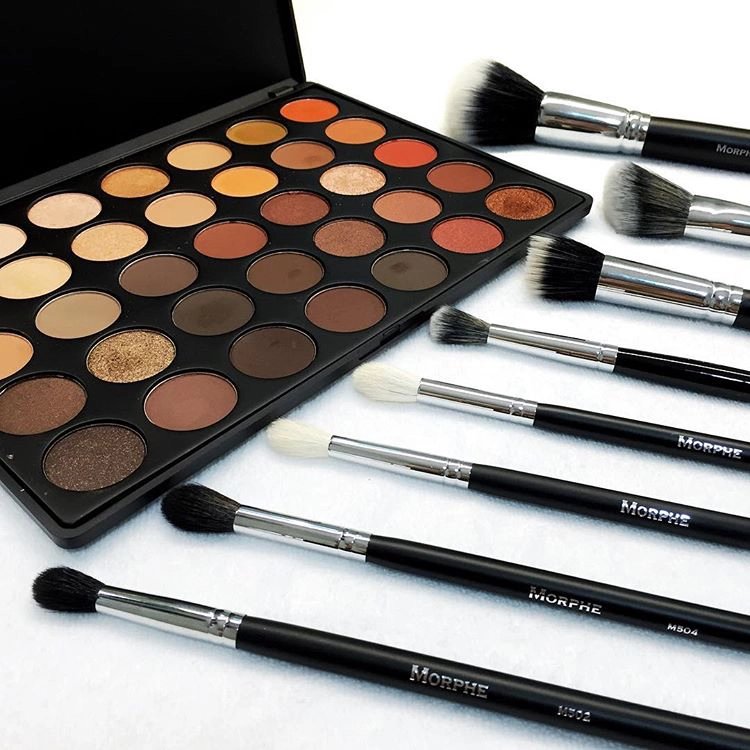 If you are up to date with the most popular makeup products at the moment, chances are you know of this palette or you know someone who has the palette, or you own one yourself.
I'm obviously talking about the 35O Palette from the brand Morphe Brushes. This brand has catapulted in social media spots and into consumers hearts in a very whirlwind like fashion, much like Taylor Swift's relationships (yes, I went there.) but unlike her relationships, it has come and gone but it is permanent and is here to stay.
So, very quickly you get yours by clicking onto this link right here. At the moment it is in stock along with its siblings, the 35o Matte and 35o Shimmer. Yes, this palette is so well loved that Morphe has expanded this selection into 2 other palettes with the same colors, but with a concentrated matte and shimmer versions.
But, before we completely get sidetracked by the little sisters this palette this has sprouted, let's focus on the big sister, the regular 35O Palette, also known as the 35 Nature Glow palette.
Here is another photo of the beauty that this palette is: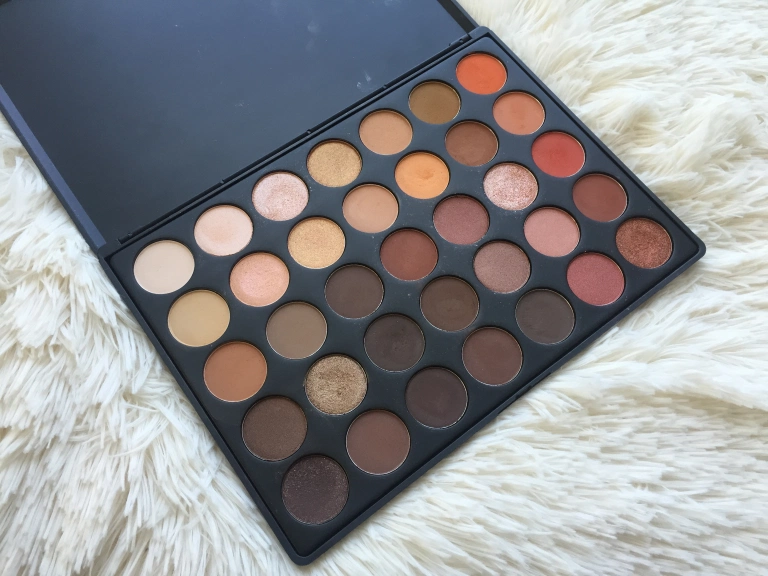 Now, my first impression when I got this in the mail was : OH. MY. GOODNESS. I wanted to touch it, but didn't want to, because it was so pretty! I am a sucker for warm toned eyeshadows and I love it for any time of the year. I find that they work best on my skintone and eye color and it's always a good idea to have on. So, when I got this palette, i thought it was just perfection.
I got this when I was still in the Philippines, a friend ordered it for me from the Morphe website and ended up amounting to more than twice the original price because of the overseas shipping and handling and taxes and all that stuff we hate, but when I dipped my finger into the palette and swatched a few shadows, right off the bat, I was convinced that it was well worth the wait (took at least a month before I got it) and the money that I spent on it. If you must know, I ended up spending Php 2,500 or roughly $53 on this single palette. I'm fine. Don't worry about me.
Anyways, I didn't really get to play with this palette because I was busy trying to get my stuff together, packing and getting ready for my big move (to the US) and so I had to pack my pro kits, my makeup and stuff, and with it this palette.
When I first got here (in North Carolina) about a little over 3 months now, I've been able to take this palette out because it was very easy to pick out from my pile because it stood out (in size) and since then, I have started forming a more less enamored and more conscious and formed opinion on the palette.
Here are some swatches for you: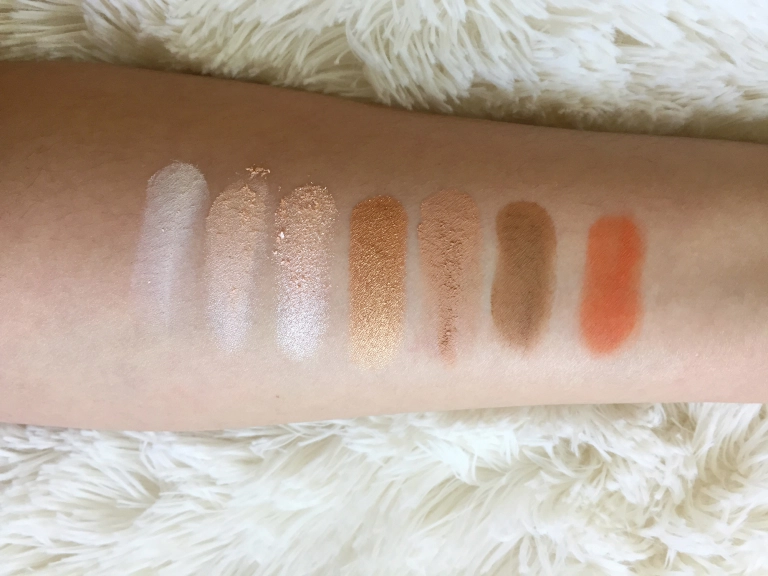 On the first row, the first shade is a matte, that second shade from the left is a satin, the 2 colors next to it are shimmers and the rest are mattes. All these shadows will have some sort of fall out, some will have more than the others as you can see here. The 3 matte shades at the end feel almost dry to the touch, but it works well with a brush and it does kick up a lot of powder. but nonetheless, very pigmented.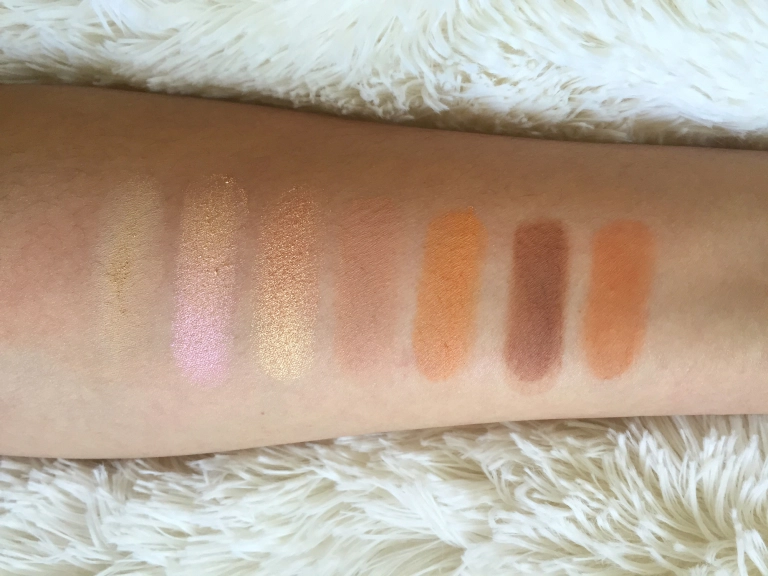 On this second row, the first shade is a matte and it reminds me of a maybe deeper and powder version of MAC Soft Ochre, the second one is an interesting shimmer shade with a pink and gold shift to it, the third one is another shimmer and the rest are mattes. The first eyeshadow we used in the video has the same dry texture, but as demonstrated it is pigmented and it blends wonderfully.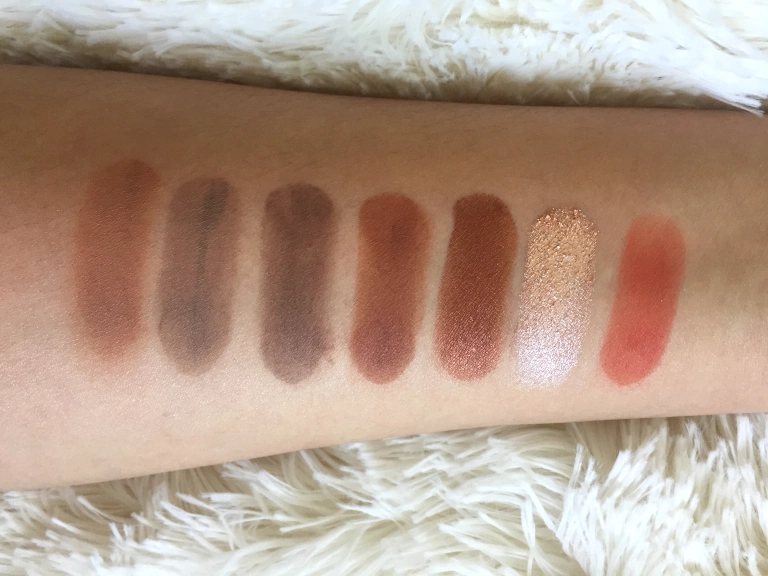 On the third row, all but one eyeshadow is metallic, as mentioned in the video, that is one of my favorites, if not my absolute favorite from the palette. None of the matte eyeshadows in this row feel dry, but that second and third eyeshadow has definitely looked uneven on my eyes without a primer when I tried it before.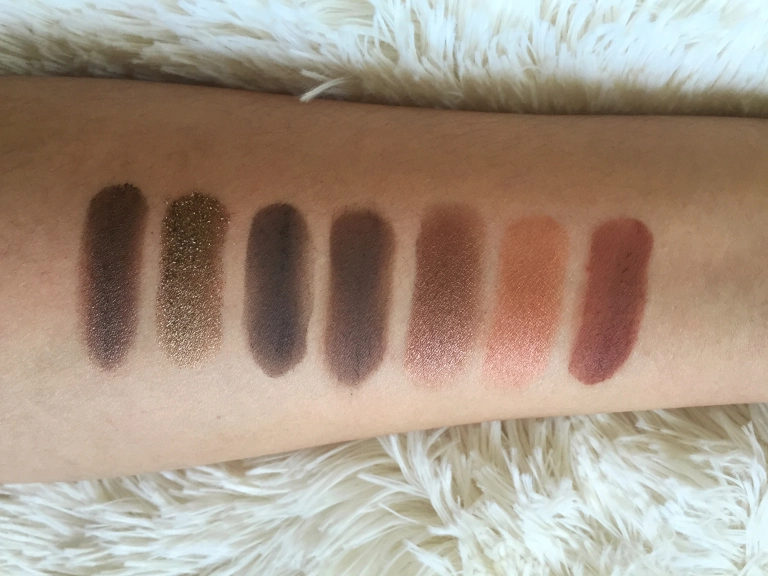 On the fourth row, I start to notice some similarities to the tones of the eyeshadows, but you'll notice that the textures are a little bit more diverse than the eyeshadows before this. The first one is a satin, the next one is a metallic, third and 4th are mattes, the fifth and sixth are more intense satins, it gives your eyes a nice sheen and that last one is an actual creamy matte, compared to the rest of the mattes in the palette.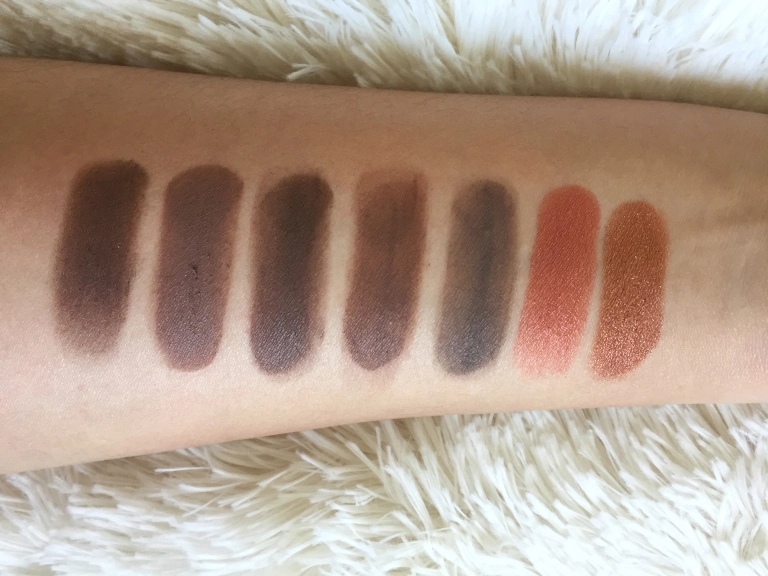 On the fifth row, the first to fifth eyeshadows are mattes, the next one is a shimmer and the last one is a metallic. Now, this is where it looks funny to me, while the last two colors are pretty, the rest of the colors in this row are almost like repeats of other colors that we have seen elsewhere in the palette, or at least that's what they look like to me. And it's not just these ones, if you look closely at some of the other shadows, they appear to be very similar to another eyeshadow in the palette.
Here are some close ups of the look I did with the 35o Palette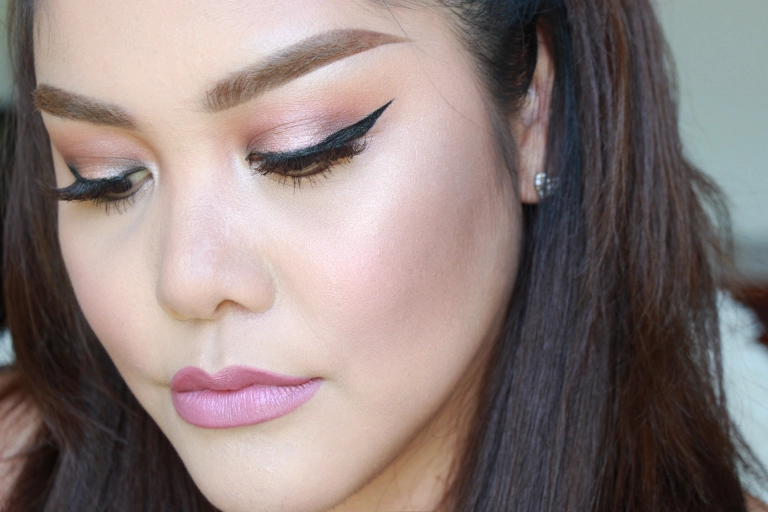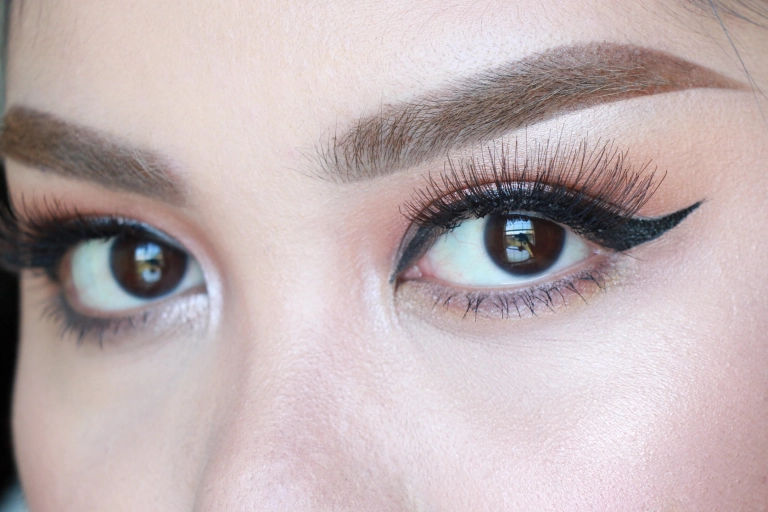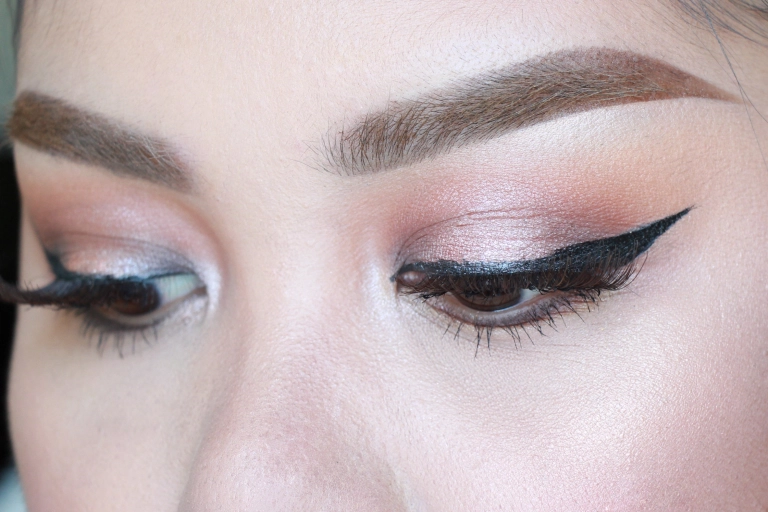 If you have watched the tutorial I recently posted using this palette, you will see that it actually performs well and part of that is because I tried to use the shadows that I have had no problems with and for the most part, I really think the quality of the shadows in this palette is decent.
Let's break it down…
This palette sells for $22.99 (plus tax and shipping), which comes down to .65 cents per eyeshadow and if you use one of those discount coupons, you get 30% off your purchase which reduces your price per pan even more. Now, it's not a secret that these eyeshadow palettes are made in China, they have Mica, Talc and 2 kinds of Parabens (preservatives) and honestly, the ingredients in this palette are not the best. I have read that some people have mentioned allergic reactions to some of the eyeshadows, claiming that it is because of the ingredients, I myself have experienced some discomfort in the shimmers, but not with those two that i used in the video. I have nothing bad to say about the mattes in terms of allergic reactions, but that some of them have performed less ideal than some of the others in the palette.
In terms of packaging, the eyeshadows are housed in these large lightweight plastic cases, reminiscent of the Coastal Scents palettes. They are slim in thickness, which is great, but they are very wide and if you are a makeup artist and you intend to use this, it may be less portable, but that's just me.
Back to the eyeshadows, I personally think that the quality on the eyeshadows are inconsistent, but I'm also happy to let you know that there are more eyeshadows in this palette that worked well than those that didn't. Yes, the swatches look great, but most eyeshadows (regardless of the brand) finger swatch beautifully. The true test is when they're already on your eyes.
Also, as big a palette as this one is, Morphe had the chance to include 35 different eyeshadows with a variety of finishes and colors while following the premise of the color theme, but I feel like they didn't do enough as to integrate more assortment in shades, and I believe that it is business strategy because after all, you're paying so little to be getting so much from your palette.
Now, I'm not saying that Morphe is cheating us. I'm saying we got our money's worth in terms of "quantity" of eyeshadows in this palette, but I can't say I got my money's worth with the diversity in the color selection.
Do I hate it? Absolutely not, I think this palette is fairly priced and I believe the hype on this palette is real because of the ease of use one can experience in this palette. You have some beautiful mattes and shimmers, metallics, even a unique duo chrome thrown in the mix. .
Over all, I would give this palette a 3 out of 5 stars. I would recommend this to anybody who loves warm eyeshadows and if you don't mind getting repeats within your palette. On the up side, they will serve as back ups when you hit pan or run out of the one that you are currently using. If you are a beginner in makeup and you're looking for decent eyeshadows to practice and expand your artistry on, the morphe palettes are good ones to consider, they have so many other palettes in the website you can choose from.
That's it for my review on the Morphe 35O Nature Glow Palette! Let me know your thoughts if you have this palette, I'd love to know how you feel about it, specially if you love it, maybe I'm missing something or maybe I can do something to make it work better for me.
Other than that, please don't forget to follow my blog to keep with updates, reviews and swatches and stuff like that, I'm also on Instagram! Please subscribe to my Youtube channel!. Have a great summer and I will see you again next time!