Today we're talking about this new makeup blending sponge that Ecotools has released recently. I first saw this on snapchat, pretty sure it was Emily Noel's and I have since purchased it and been putting it to a test. This sponge retails for $9.99 for 2 sponges. I got mine from Walmart but I've also seen this at my Ulta, you should be able to get this wherever they carry Ecotools.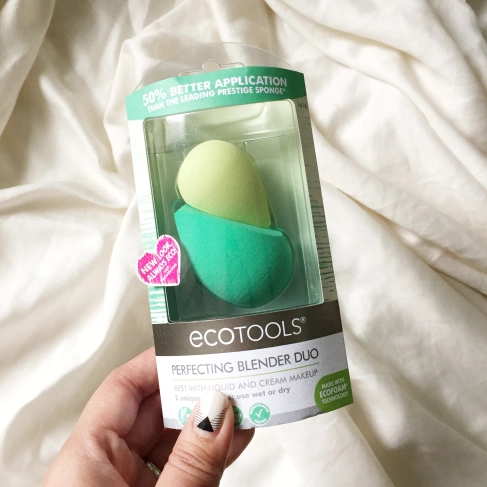 These are made with 70% plant based materials, it is latex free and it is 100% Vegan and Cruelty-free. It claims to apply 50% better than the leading prestige sponge (hmmm….)
I personally like using makeup sponges to apply and blend my foundation & concealer. The Original Beauty Blender has a way of evening out foundation while maintaining the coverage which is pretty much what I always look out for when trying newer beauty sponges. The Real Techniques complexion sponge is a very close second, but that eats up a lot of product, so I rarely use it for that reason.
These New sponges from Ecotools are brightly-colored following the Ecotools brand colors. When you take them out of the packaging, you basically get two, different sizes, they are the same shape, but basically you get a full size and a mini version, they expand to a nice size after being saturated with water and this is how they are described in the packaging: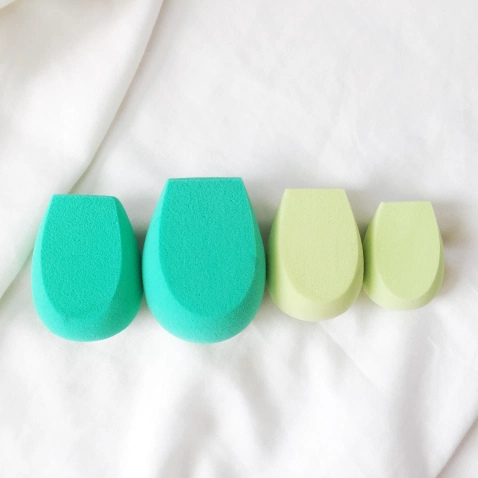 The Large Base Blender is soft and flexible to create light, buildable coverage.
The Mini Detail Blender is firmer for more precise coverage.
Here are my thoughts:
The sponge is shaped like your typical rounded, egg shape bottom, good for blending in or applying your foundation or cream contour. The round surface offers a soft and thorough blend, in my opinion.  It does compress well when you pinch it, to work on smaller areas.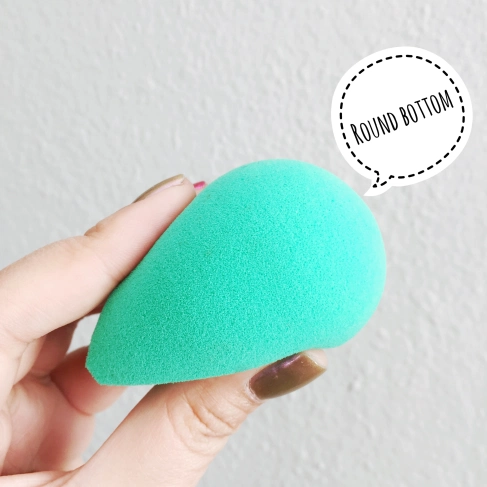 And then you turn it on one side, it's got a large flat side that allows for either applying primer/skincare products or blending your foundation or concealer. I specifically like this side for applying cream blush and highlighters. For those of you who like to 'bake', this is a great edge for applying loose powder on larger areas.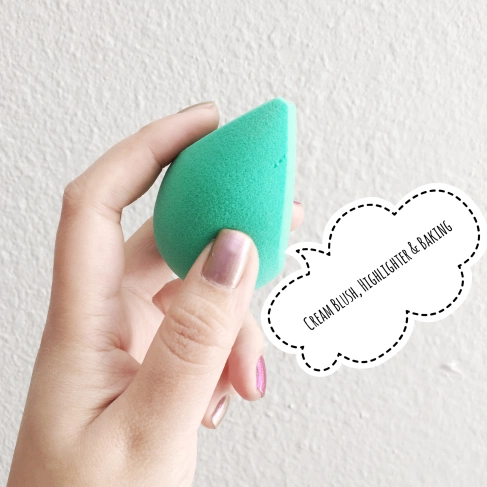 The other flat side edge is less steep and smaller compared to the other one, I prefer this for blending in concealer and for picking up loose powder to set the under eyes with or powdering that gap between the eyebrows.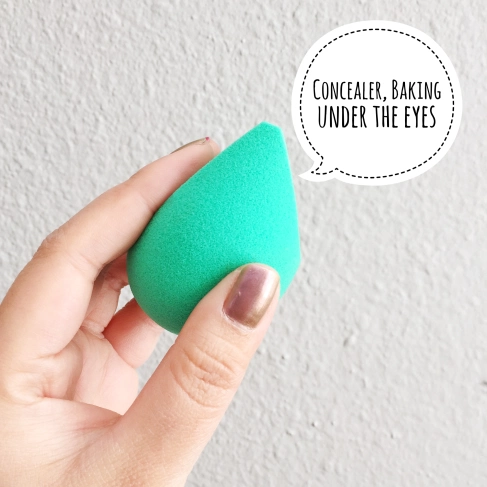 One tiny detail you'll find on both sponges is that they both have a thin, flat top edge. I think it's both design and purpose. Not only does that top edge offer a little more durability to the point of the sponge so it doesn't tear easily, but it also works for me when I want to clean around, or if I want to wing out the shape of my eyeshadow.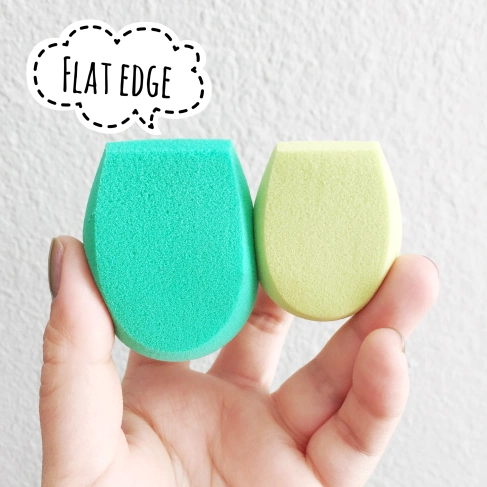 I generally prefer the bigger sponge over the small one. I feel like the smaller sponge can accomplish the same things the bigger sponge is able to do, given that they are made with the same material and same curvatures on the edges. However, the bigger sponge gets the job done quicker just because of the size of the surface it can cover at a time.
I do appreciate the smaller one for it's size but if I'm in a hurry, I honestly don't want to be bothered by switching sponges. I wanna be able to use one sponge for multiple things. I guess, I should mention that the smaller one is comparable to the Beauty Blender blusher in size, but I still prefer the large flat side on the bigger sponge for cream blush.
Having said all that, my only issue with this sponge, and quite frankly a minor one; is that this is a rather dense and firm sponge compared to the softness of the Original Beauty Blender and the Real Techniques Complexion Sponge. The Mini blender is even firmer than the large one. On the upside, for this same reason it doesn't eat up as much product and it has proven to be more durable than the Real Techniques sponge that tears within the first 3-5 washes.
Overall, I would give this product a 3.5 out of 5. I'm not completely sold by its claim of 50% better application. No sponge in the market (that I have tried) has ever been better than the Original Beauty Blender.
It's not a bad product at all, it has proven to be very versatile. I have given it fair time testing these out but it's still not my go-to blending sponge. I would still recommend this, though if you are looking for a good drugstore, eco-friendly sponge that's durable and functional.
That's it for my review of the Ecotools Perfecting Blender Duo, I hope that this is helpful for you in considering this sponge for your next trip to the makeup aisle.
Thank you for stopping by and I'll see you next time!