I have been subscribed to Boxycharm since September 2016. For the most part I have been pleased with the products I have received, and even more so, with the value I'm getting for what I am paying for.
If you don't already know what Boxycham is, it's a beauty subscription service that charges you $21 per month and they send you 4-5 full size beauty products, usually makeup items but they also send you makeup tools, nailcare, skincare, haircare and bodycare items in the mix. The total value of the box is always more than $100 which is amazing, if you ask me.
This month is definitely better than the December 2016 box, but before I show you what I got this month, here's a recap of my past boxes and the total value of each one.
September 2016 – "Camp Glam"
Total value: $110.95
Box rating: ⭐️⭐️⭐️⭐️⭐️
Favorite item: Studio Makeup "On the Go" Eyeshadow Palette – $49.95
October 2016 – "Boxy Bazaar"
Total value: $141.95
Box rating: ⭐️⭐️⭐️⭐️
Favorite item: Luxie Beauty Eye Blender Brush Pack – $36 (set exclusive to Boxycharm)
November  2016 – "Groovy Town"
Total value: $156.94
Box rating: ⭐️⭐️
Favorite item: Patchology Flashmasque Trio – $20
December 2016 – "Makeup on Pointe"
Total value: $112.90
Box rating: ⭐️⭐️
Favorite item: Beauty For Real Lip Scrub – $14
January 2017 – "And the Charm Award goes to…"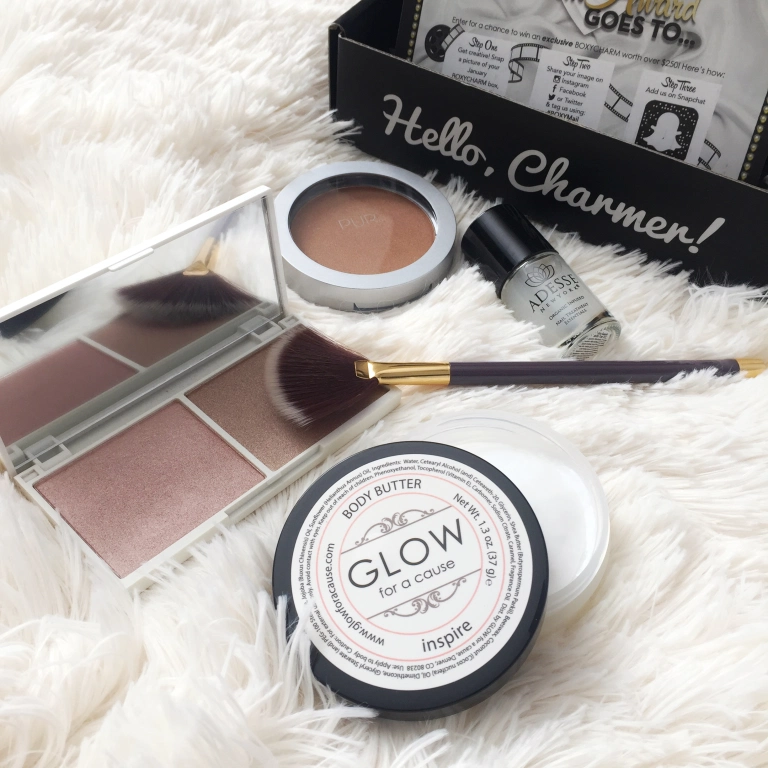 Total value: $110.95
Box rating: ⭐️⭐️⭐️⭐️
Favorite item: Glow for a Cause Body Butter, $14
If you are a fan of the Josie Maran Divine drip, I would say this is a very similar product in terms of texture and benefits at a fraction of the price. I love this non-sticky,  balmy formula that coats the skin. Very nourishing, comfortable and the scent is very subtle and long lasting.
Least Favorite: So Susan Fan brush – $18.95
I personally do not like using a fan brush for highlighting as it can apply the product in an awkward stripe or it's just too flimsy for my preference. I  assume they added this brush in this box to compliment the Vintage Highlighter duo, but I don't use this particular kind of brush for that purpose, I do like them for sweeping off excess powder or for dusting off eyeshadow fallout. However, this brush is a little too sparse and thin for my liking, so *thumbs down* for this product.
Other items included in the box:
Vintage Highlighter – $35 This is definitely better than the Face Highlighter they included a couple months ago, this seems to be smoother and finer and can be applied with a fluff highligter brush for a more natural effect or with a beauty sponge for a more concentrated, metallic finish to the skin.
Pür Cosmetics Mineral bronzer – $25 – TOO SHIMMERY to be a bronzer, imo. It looks very similar to TheBalm's Betty Lou Manizer, but slightly more orange. I will use it a a bronze topper for deeper skin tones or possibly a blush, it'll also make for a nice eyeshadow, but not a bronzer for me.
Adesse Ultra Suede Matte Top Coat – $18 – I have never been a fan of Matte Nails because I felt it looked dirty, dry and undone but this one is the best one I've tried so far. It's thin formula leaves a sheer matte finish on the nails, it dries quickly and it has remained scratch proof so far for the past 5 days that I've had it on my nails.
Next month, subscribers can expect the $79 Dr. Brandt Microdermabrasion Skin Exfoliant, so that on it's own makes up for the total value of the box. I'll keep you guys updated about what I get in my February 2017 boxycharm, what did you get in yours? Please let me know in the comments section below! Tell me what you think about your box and boxycharm!
Thank you for stopping by and I'll see you again next time!