Hey guys! It's been a hot minute since I've been up here. No excuses, just life happening. But, it doesn't mean I have stopped trying makeup, I have just kind of taken a pause from writing reviews, making videos and such.
I was so excited about this and I just couldn't pass up writing something about this palette. As you can already tell with the title of this blog, I'm going to be talking to you guys about The Wants Palette by Make Up Revolution in collaboration with the one and only EmilyNoel83. If you don't already know who she is, well… you're missing out.
Before I continue, I also wanna mention that this post is prompted as an appreciation to Emily for everything that she has done to share her experiences, opinions, her time and life with all of us her viewers in the past 10 years. I think it takes a special kind of courage to put yourself out to the world.
She has consistently put out content that's smart, simple, relatable and practical. She has never claimed to be an expert and has maintained her position as a makeup lover, as a consumer, as just another person on the other side of the screen, sharing her opinions on what she loved or disliked about a certain product or brand. She's always straight forward but respectful, informative but not a know-it-all.
Enter, The Emily Edit: The Wants Palette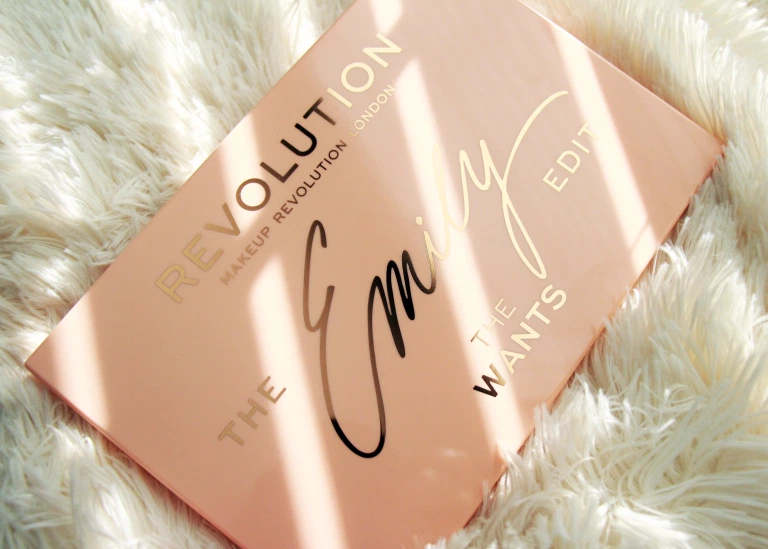 I've never really tried Makeup Revolution eyeshadows before but I wanted to give it a fair shot despite the fact that I'm not a real fan of this brand, but because my support for Emily outweighs my dislike for the brand… here we are.
I was very excited for the greens in this palette, specially that deep, forest green shade called Corduroy, if I'm being completely honest that shade was the one color that sold me on this palette. But even more so, I think it's a well-rounded palette. There's a wide range of neutrals from light to dark, nice pops of color and finishes. 24 eyeshadows? That's practically endless possibilities of combinations to create looks.
Here's a look on the inside of the palette: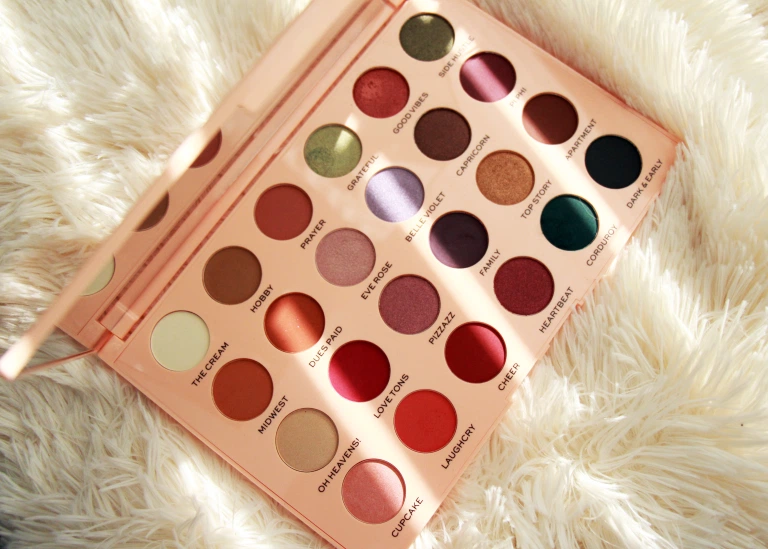 From what Emily has shared with her viewers, this palette is available exclusively on the Make Up Revolution website and at Ulta Beauty, online and in stores. This palette is permanent and it sells for $20 (eligible for Ulta coupons). She also came out with a face and eye palette called The Needs, but I don't think I'll get that one.
Emily mentioned that these aren't unique shades from the brand and that they weren't created specifically for this palette. That gives me the impression that she did not have a hand in the formulation, production and other components of the palette other than packaging and the actual color story of her line. This palette is curated from an existing library of different finishes, textures and shades from other Make Up Revolution [palettes]. She also had the freedom to change the shade names of the eyeshadows to follow her story.
I'm sharing a couple looks below and then my final thoughts and some swatches on the palette will come after. I hope this has been interesting for you so far.
I didn't use any base or primers on these looks, just my bare eyelids. I should also mention that I have fairly normal skin on my eyelids, meaning they're not oily that it might cause my shadows to crease or melt off, or too dry that it might cause the shadows to look flaky or create fallout even when the eyeshadows don't normally crumble.
Look #1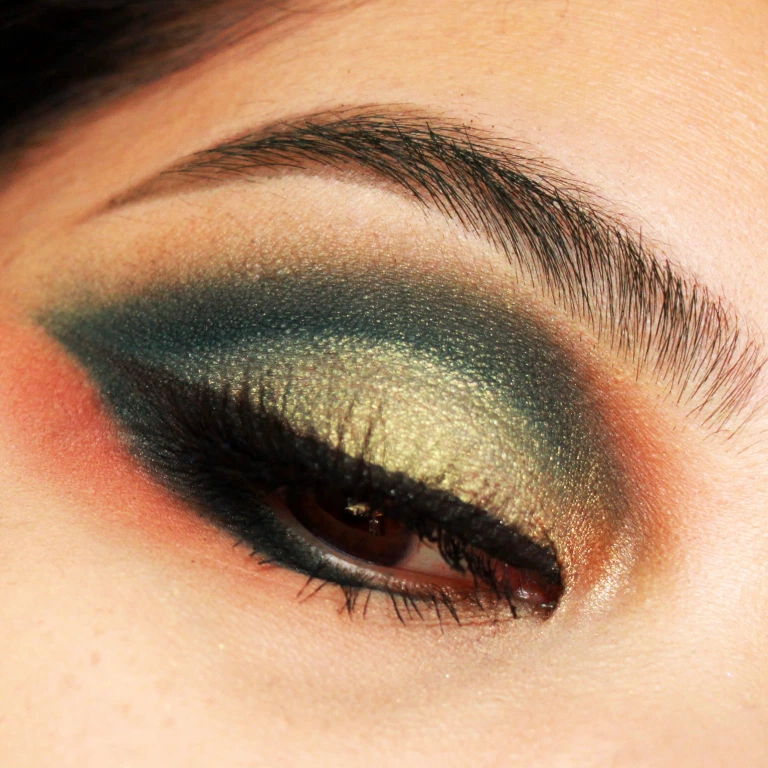 I started off with the shade Hobby on my crease as a transition color. I applied it mainly on the upper part of my crease where I know my green was going to lay just outside of. Then, I started drafting the shape of my crease with the shade Corduroy and once that was set, I applied Grateful into that gap on the lid. The shade Corduroy trails halfway into my lower lashline and it meets with Eve Rose in the center.
You can skip this part, but I just thought it would look fun if I added Laughcry around the outer and inner corners to finish the eye look.
Look #2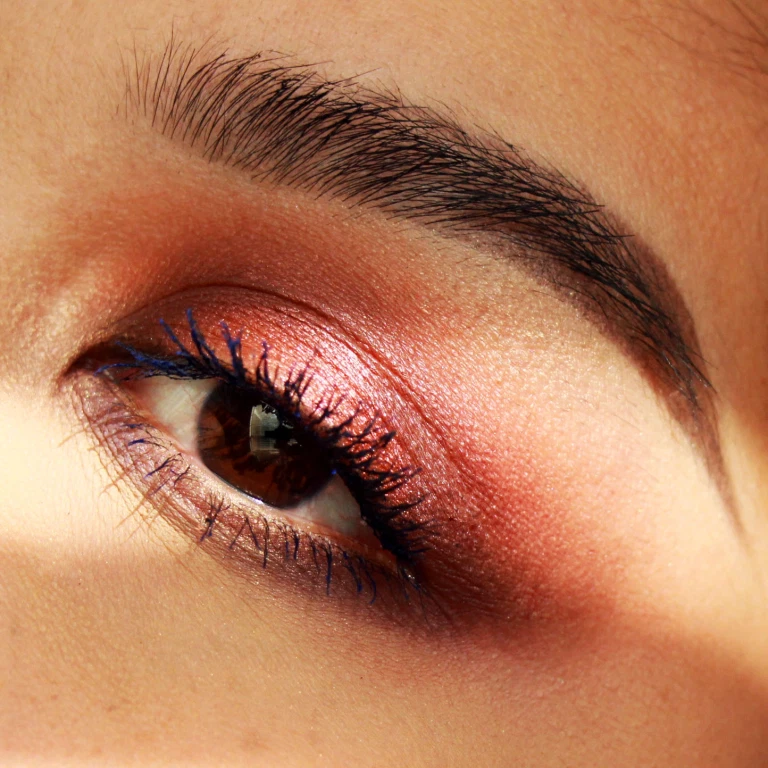 I started with Midwest very lightly all over the lids just above the crease. and then with a small blending brush like the MAC 217, I pick up the shade Cheer and lightly start to apply this blown out all over the lid, just before the crease. The same eyeshadow is applied throughout my entire lower lashline. On a precise crease brush, I take Pi Phi and I concentrate this on the very outer corner, pulling the brush as I blend. I also apply the same in my inner corner, I pulled this shadow a little high but you can choose not to do that if it's not your style. Lastly, I just take a little bit of Belle Violet into the very center of the lid and into my inner corner.
That blue you're seeing on the lashes  is the L'oreal Voluminous Original Mascara in Cobalt Blue layered over L'oreal Lash Paradise Mascara in Blackest Black.
Like I said, this is my first experience with any Make Up Revolution eyeshadow and I will be straight with you that I was neither blown away or disappointed with the performance of the eyeshadows and I'll tell you why.
Emily mentioned that she made sure these colors showed up on the eyes how they look like in the pans and I will say, the majority of them do. But, they don't show up full color on initial application. They are buildable and depending on the user it could be a good thing or a bad thing. I personally like that you can layer them. It allows the user to manipulate the colors and it's better for the skin on your eyes, too. You can lessen the  friction on your eyelids from trying to blend that overly pigmented eyeshadow. You'll thank me later for this reminder.
Swatches: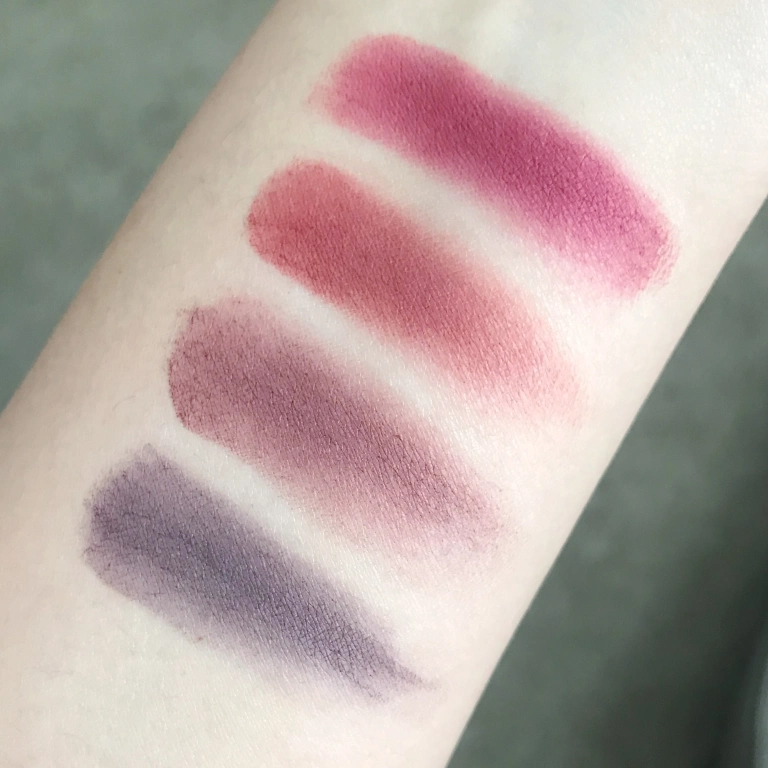 Left to right: Family, Pi Phi, Cheer, Love Tons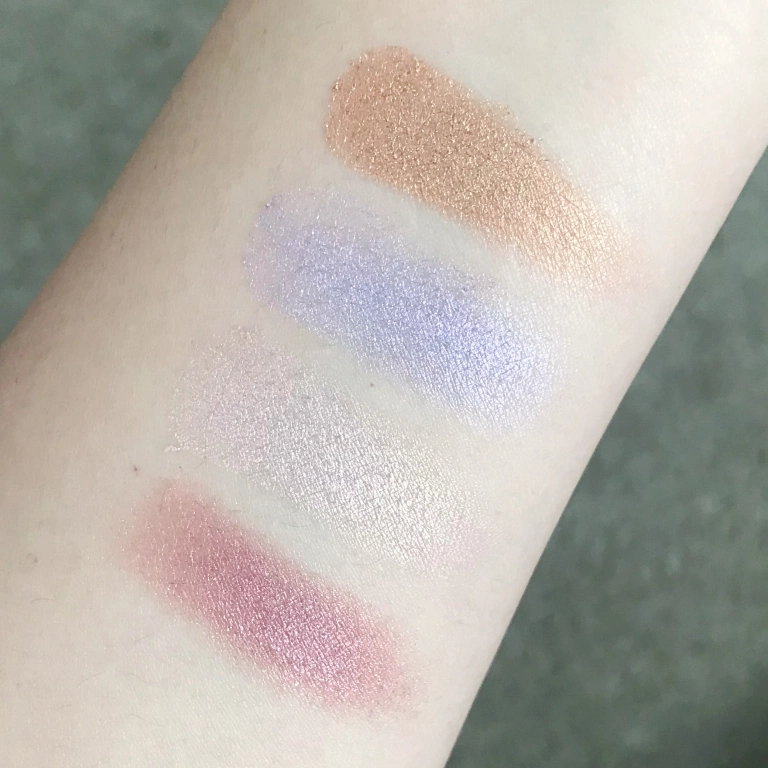 Left to Right: Pizzazz, Eve Rose, Belle Violet, Top Story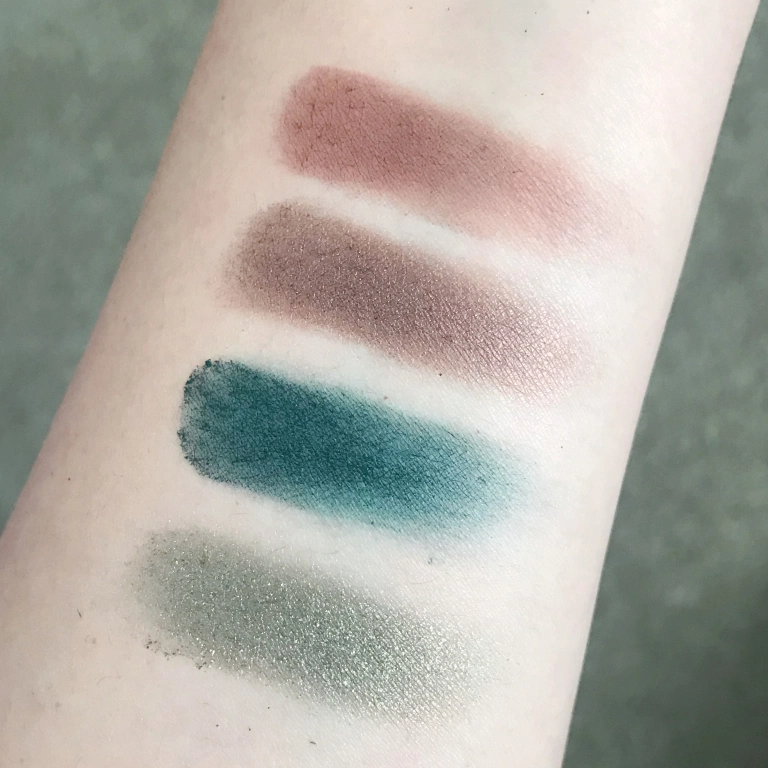 Left to Right: Side Hustle, Corduroy, Capricorn, Apartment
The Verdict:
The majority of the mattes in this palette performed fairly, My favorites were: Hobby, Midwest, Apartment & Cheer. They apply and build up nicely with or without a primer. However, some of these eyeshadows were not too shabby. Remember in the beginning when I said Corduroy was the one that sold this palette to me? Yeah… I was pretty let down. It was so patchy and I had to work really hard to get to this blend and to get it to show up. It's not even as green as I hoped it would be. It almost looked like a dark teal.
The same is true with the shade Family. Surprise! it's a Purple and I'm sure you've heard or know that purples are hard to formulate. However, Pi Phi is also another matte purple in the palette but it translates better on the eyes so much better than Family.
For anyone who's concerned abou the [red] eyeshadows staining, I'm happy to report that they don't. But, the shade Prayer did. I tried it with and without a primer but I still ended up with a rosy stain on my eyelids.
As for the shimmers, like many we've seen in the market. They perform better when applied wet or with a finger. I personally prefer to apply with a brush and then spray my brush with MAC Fix+ or whatever facial spray I have within my reach. The down side with formulations such as this where the shimmer eyeshadows are rich in mineral oils and dimethicone, is they tend to absorb moisture. The eyeshadows will eventually form a film that hardens, making it hard to pick up pigment. Otherwise, when applied dry they may not show up full color and does have fallout.
Some of the better shimmers in this palette are: Eve Rose (My Favorite!), Capricorn, Top Story and Heartbeat. These have applied nicely with or without fix+ and hasn't caused any fallout. On the other hand; Grateful, Good Vibes, Side Hustle, Belle Violet, in my experience have to be applied wet to show up better and to avoid fallout. To add, Side Hustle may be used dry and it tends to appear more of a satin on the eyes, but it does leave a lot of debris.
Over all, while I'm really thrilled for Emily and this collaboration. I am left with a "Neither Satisfied or Dissatisfied" rating for this palette. I'm sure a lot of people sang high praises for this palette and I'm sure they have reasons, but while I have no complaints about the color palette, the packaging, the price… it all boils down to the quality and performance of the eyeshadows, which in this very saturated market of eyeshadow palettes, it really takes something special to make a palette stand out.
If you're still here, thank you so much for your time. I hope that this was helpful to you and hopefully I'll be back with more reviews, hopefully new videos too.
If you're new to my page, you can watch my old videos here, subscribe too while you're at it! You can follow me on Instagram as well.