L'oreal recently came out with the Paradise Enchanted Eyeshadow Palette which, right off the bat looks like a mini Too Faced Sweet Peach Palette. Right?
That palette has a special place in my heart because it was the eyeshadow palette I used on my wedding day. It's also my favorite palette from Too Faced.
Despite all that, I didn't have high expectations when I got this because I've never had good luck with larger L'oreal eyeshadow palettes (LA Palettes). This palette retails for $14.99 but also available from Amazon and Walmart for $11.97,  pretty pricey for being a drugstore palette. You get 7 grams net weight for the entire palette or .58 grams per eyeshadow (x 12 shades) or $1.24 per eyeshadow, whereas the Sweet Peach palette ($49 retail) has 17.1 grams net or .95 grams per shadow (x18 shades) or $2.72/eyeshadow.
Overall, I was pretty impressed with the texture and quality of the eyeshadows. It may still benefit from an eyeshadow base or primer if you plan to wear this for an extended time or if you are wearing this for the evening and you want the colors to show more. But, I have personally tried this on my eyes without a base and I was not let down. It wore well for 9 hours. No creasing, smearing, with very little fading and none of the eyeshadows crumbled on my face throughout the day. Also, that "scented" quality of the palette? If you don't care for scented makeup, you'll be happy to know that this isn't as fragrant as the Sweet Peach palette, you really have to bring it up to your nose to smell it and when you do, you might detect a soft, odd chemical-y smell with the scent.
On the other hand, the choice of colors they put in the palette may limit who can use it. I'd say I have a light medium complexion (MAC NC20/30). Any deeper than my skin tone and I might lose the opportunity to use at least 3 eyeshadows (because it won't show up on my skin) and that's a waste of money. Also, I would have liked if there were a couple more deeper shades to ground and define the looks. Like, instead of shades 4 and 10, a midtone matte peach and a deep purple toned brown would have been better choices.
But, here are swatches, comparisons and a couple eye looks in the very end to help you decide if you would like to pick up this palette. Thank you for stopping by, if you have not followed my blog, please do so by clicking here. Subscribe to my YouTube channel if you haven't already, as well as my Instagram. I hope to have you here again next time!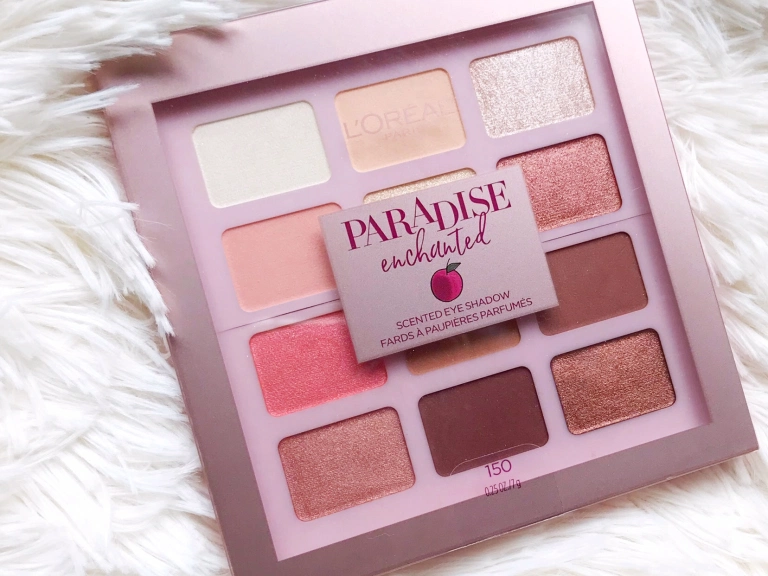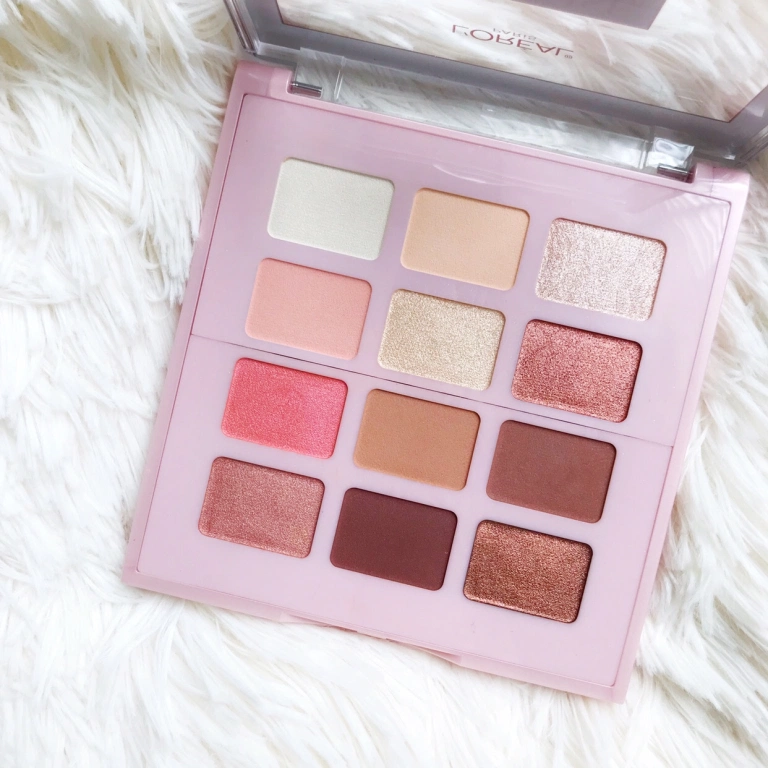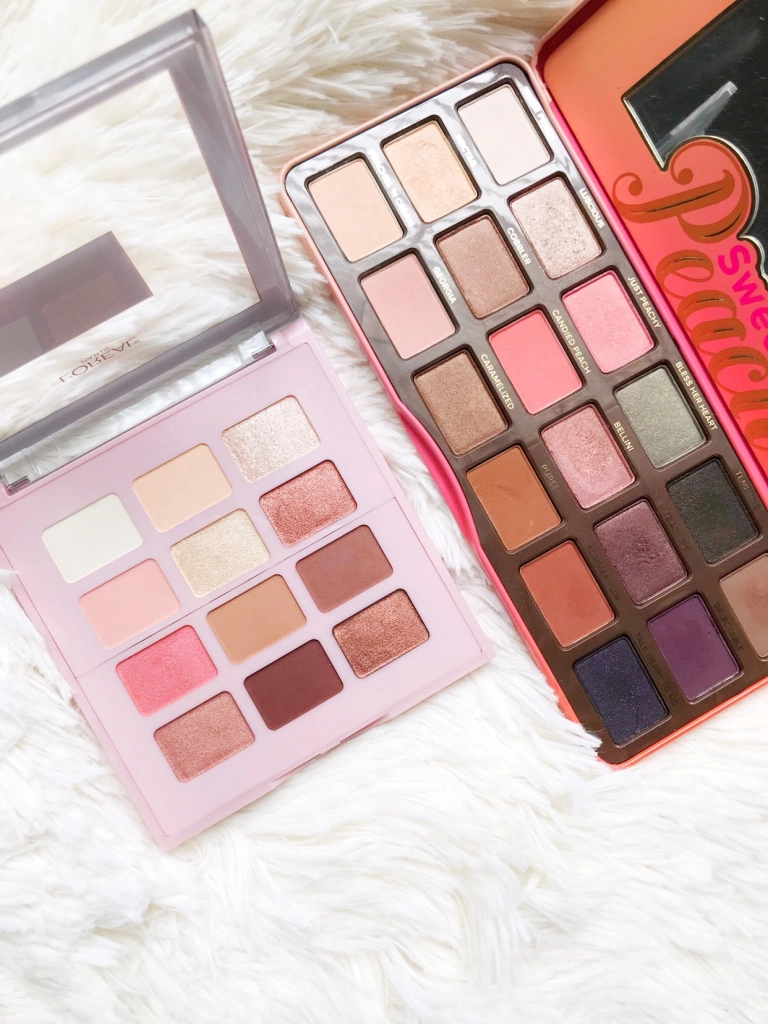 Each eyeshadow is swatched on my clean, dry forearm. I swirled my finger 5 times on the pan with 2 passes for the Too Faced eyeshadows and 3 passes for the L'oreal eyeshadows for them to show up like this. I used my Index Finger for TF and my Middle Finger for the PE, I cleaned my fingers with a makeup wipe and I dry them on a separate paper towel after each eyeshadow.
There's also some kick up in the pan when you dip your brush in, but I have not experienced any fallout during application and throughout wear. I am personally not bothered by weak arm swatches and kick up, but I thought I'd share my process here for transparency.
Left: Top 6 shades, Right: Bottom 6 shades.
The next photos are going to be comparisons between the TF Sweet Peach and Paradise Enchanted. The shades on the left are going to be Too Faced, L'oreal will be on the right.
Left Photo: White Peach VS. 1 | Peaches N' Cream VS. 2 | Nectar VS. 3
Right Photo: Georgia VS. 4 | Nectar VS. 5 | Cobbler VS. 6
Left Photo: Candied Peach VS. 7 | Puree VS. 8 | Summer Yum VS. 9
Right Photo: Bellini VS. 10 | Peach Pit VS. 11 | Caramelized VS. 12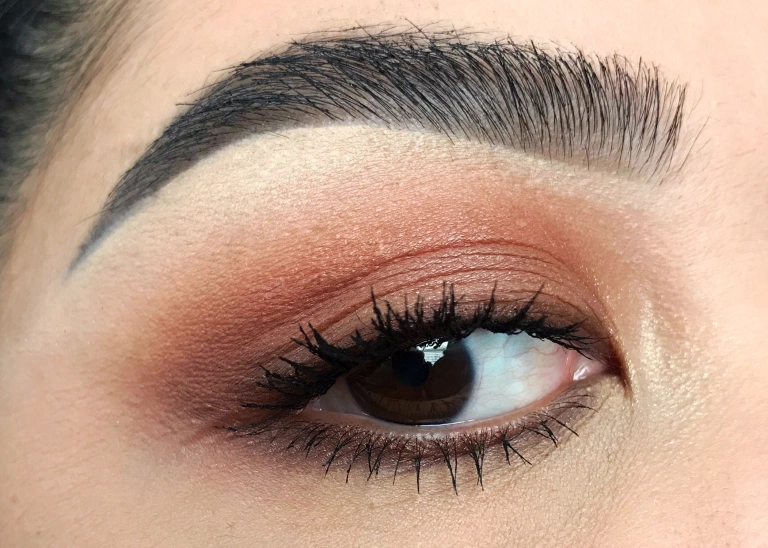 Crease: 8, Outer Corner: 11, Lower Lashline: 12, Browbone: 2
Crease: 7, Inner & Outer Corner: 11 & 12, Lid: 3, Browbone: 2