As promised, here's a closer look at my Marie Antoinette makeup from Episode 3 of Mega Fashion Crew 3 Reloaded.
Special thanks to Professional Artist Cosmetics – PAC Philippines for providing absolutely amazing products that helped me achieve this look.
In this Mega Campaign, I was inspired by Marie Antoinette; her lavishness, luxury, power and beauty.
but I also wanted to create a makeup look that's a little bit more contemporary and gothic by pairing dark eyes and dark lips
with her Victorian pale, porcelain skin.
This look is totally wearable, too. Just use your regular foundation and do your brows with your regular products.
(If you missed my blog on how to do your eyebrows, here's the link🙂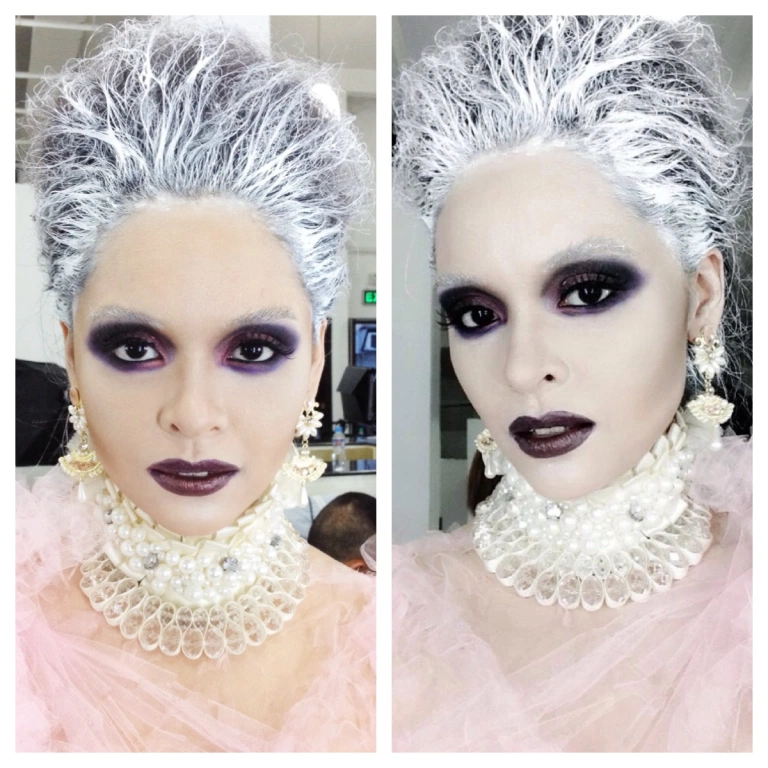 Here are a few simple steps to recreate her lush purple eyes!
1. Use an eyeshadow base. This is to ensure you get a vibrant and long lasting color.
On this one, I used PAC Cosmetics' red and blue face painting to create the purple I want for my base, but you can go ahead and just use any eyeshadow primer / base of your choice.
2. Over the purple base, pat over a bright purple eyeshadow. Try (3rd color) L'oreal Color Riche quads in Disco Smoking.
3. Blend over with the 2nd color from the same palette, just above the crease of your eye.
4. On the inner corner of your eye going towards the middle part, apply a shimmery maroon eyeshadow and blend. I used PAC Pearly eyeshadow in P02.
5. To maintain a pearlescent texture on the eye, on the outer eye going towards the middle part of the eye, take a shimmery black eyeshadow and blend until it merges with your maroon. I used PAC Cosmetics Pearly Eyeshadow in P03
6. Don't forget to apply the same colors at your lower lashline. You may extend a little below it for a more consistent and impacting look.
7. You can go ahead and tightline your eyes, but you can also opt to skip this and go for at least two coats of mascara, or better yet a nice pair of wispy lashes to open up your eyes. 🙂
If you liked her lip color and you're wondering what shade that is, I have a confession…
It's not exactly a lipstick. It's her eyeshadow mixed with chapstick and I used it as her lipstick :p
Complete this look with proper highlighting and contouring and don't forget to apply just a hint of blush to brighten up the cheeks in contrast to that dark and heavy eye makeup.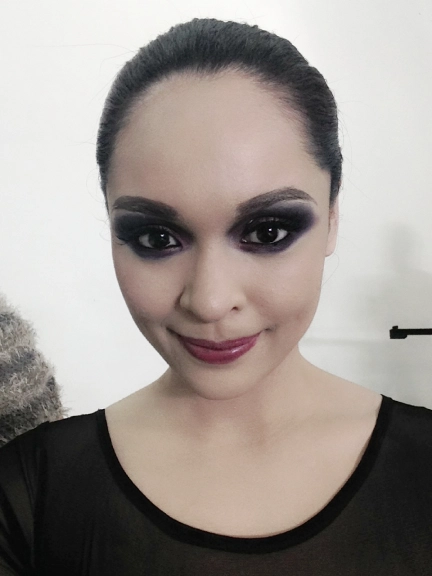 Here's a photo of Franchesca wearing the same eye makeup for the judging.
If you're interested to know the actual foundation I used on her for the Mega Campaign; it's PAC Cosmetics' Creamy Foundation in 01. Perfect, silky application that glides and blends easily on the skin. I topped this with some PAC All day coverage foundation C01 to make it less white and to achieve some warmth / color on her skin.
I hope this is helpful to some of you!
Please share with me your recreation or render of this look, if you did any. Let me know which products worked better for you, or if my suggested products worked wonders for you as well it did with me.  Send them via [email protected] or through my facebook page. Follow me, if you haven't yet: Beauty by: Gia Lalu
Thanks for reading!
By the way, Another episode of Mega Fashion Crew 3 Reloaded is airing tomorrow, 7pm on ETC Channel.
Please continue supporting me and the Tributes by using #Megafashioncrew #TributesCrew #TeamTributes on your posts and tweets. You may also reference to your hashtags as the contestants are usually live tweeting about the show 🙂
You can also vote for us as your favorite crew! Just visit: megastyle.ph/mfcreloaded/crews
Until next time!
❤ Gia