I know I recently posted a mini review on the MUFE Aqua Brows, which you all know I instantly fell in love with. But! The NYX Eyebrow Gels came in last week and I have to say, these things are not to be taken forgranted.
This video shows you how I applied the products on to my brows and it will also show you the actual behavior of the products once used. The video is at normal pace, so you can have a feel of the time I had spent on the application.
Since I have mainly given you an introduction on the MUFE Aqua brows from the previous blog, I'm going to start by telling you about the NYX Eyebrow Gels. This little guys retail for P380.00 to P590.00 in the Philippines for 10ml. I got mine from Makeupholics and got the 3 middle colors: Chocolate, Brunette, and Espresso. There are two other colors: Blonde, and Black which I guess I will go get at some stage, but for right now these three are enough for my kit and for those who wanna know, these are great colors for Pinays. The tone and range of colors are great for our dark hair and yellow tone complexions.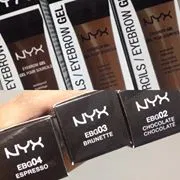 I have naturally dark and intensely black hair and I like my eyebrows to be a little bit lighter depending on the makeup look I'm sporting, but these days I'm in the ashy-taupe mood for my brows, and I usually like to brush through some brow set to keep the hairs in place. It seems like the the "Brunette" shade is close to that color preference. I've only used it twice, once the first time I received them from Makeupholics and the next time was when I filmed this video.
In the video/demo though, I used the color; Chocolate which turned out to be the perfect brown I'd go for when if I was going for more intense eye makeup looks. It's not too warm, but I felt this color was very flattering to my skin tone and nothing distracting from my hair color.
I'd say the texture of the Nyx Eyebrow Gels were slightly more loose/runny than the Make Up Forever Aqua Brow when you squeeze them out of the tube, but when applied, they become slightly tacky and they set easily, which is probably why I encountered some clumping during application. They are very pigmented and that single tiny dollop you saw on the video is the amount you need to fill both eyebrows. It clings very well on the skin which is great for people who have very sparse hair or those who have scarring on their eyebrow area. Another great thing about it is sticks to the hairs as well which means, no more brow set to help mimic the color of the product and to set the hairs down.
The clumping to me, is nothing alarming, it just means that I have to work quicker and maybe stay away from the electric fan next time. It always takes some getting used to when trying out a new product, but a good thing to always have on hand when using this or just when you're doing your eyebrows; is a spoolie, because it helps blend out the product and it's a great tool for setting down your brow hairs once you're done blending and filling in.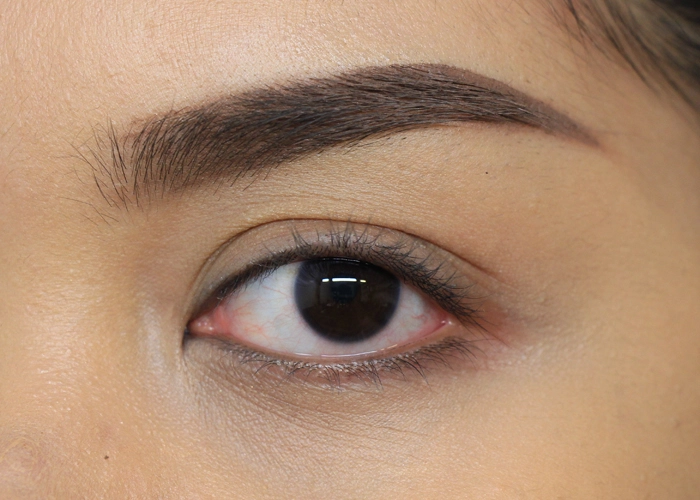 On to the Make Up Forever Aqua Brow, as mentioned in the previous post, these things retail for P950 to Php 1,500.00 in the Philippines, for 7ml and I got mine from Nicolettemakeup. Like the Nyx Eyebrow Gels, the Aqua Brow also comes in various colors: 10, 15, 20, 25, 30, 35 and 40. I have the colors 15 and 25 and I used the #25 on the video / Demo because it's the newer one :p and because I think this color perfectly describes that Ashy-Taupe color I was telling you that I am so into right now.
The Aqua Brow has a creamy, whipped, and fluffy texture from the tube and goes on smooth and flat once applied on the eyebrows. It is so easy to blend and the color sticks to the hairs too, so no need for a separate brow set. The pigmentation is so spot on and can be intimidating for first time users but like I said, they are blendable and so easy to manage. Another great thing about this product is that you can layer it and get a more intense, fuller color, but it doesn't affect the texture and appearance of the product, it still looks flat against the skin and doesn't leave clumps or flakes.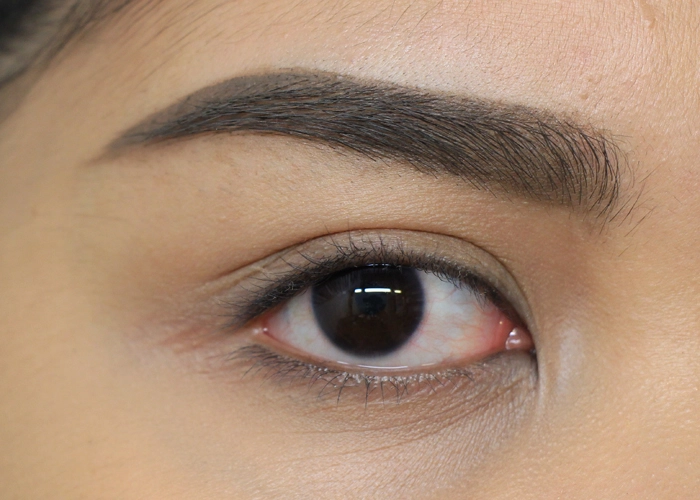 Before my final thoughts on the products here are some swatches:
(Left to Right) NYX Chocolate, Brunette and Espresso – MUFE 15 Blonde and 25 Ash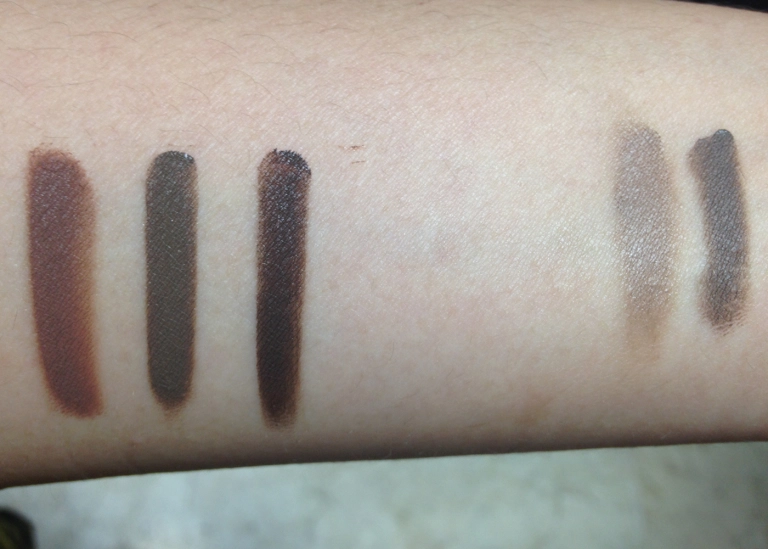 Finally, here's my two cents:
I fell in love with the Make Up Forever Aqua Brow when I got it the first time, but I got the wrong color which was Blonde and kinda put that in the back burner until I got the Ash color. I'd say this product is very much worth it's price and I'm confident they wouldn't dry out before I can go through half the contents of the tube. If there was anything that is a little disappointing on this product, it's how it didn't hold up well when I tried to wet my eyebrows to test its claim of being "waterproof". It certainly didn't wash off or run, but most of the color got washed out and it had become patchy.
On the other hand, the NYX Eyebrow Gels, held up very well, pretty much retained it's original color. In fact, it needs a good Waterproof Makeup Remover to get it out of your eyebrows. For a product that's 1/3 of the price of the MUFE Aqua Brow, the pigmentation, formula and color selections are great and practical. However, the product drying out so quickly that it causes some clumping is not something that appeals to me because: I like to take time doing eyebrows and I'm concerned about it drying out even inside the tube, over time.
Now, if you were going to ask me which of these two I'd go for…. I would say, I'd go for the MUFE Aqua Brow and this is a personal preference. I like the color selections of the Aqua Brow because they are cooler, the NYX colors are warmer. Also, the ease in application as well as the texture are things that are very important to me.
This doesn't mean that the Nyx eyebrow gels are not good, in fact these go into my professional kit, because like I said they pair nicely with Filipina skin tones and hair color, it's not as expensive and the Waterproof quality becomes an important factor when you're concerned as a makeup artist about your client sweating, crying or getting wet in the rain or doused with water (for instance) during an event.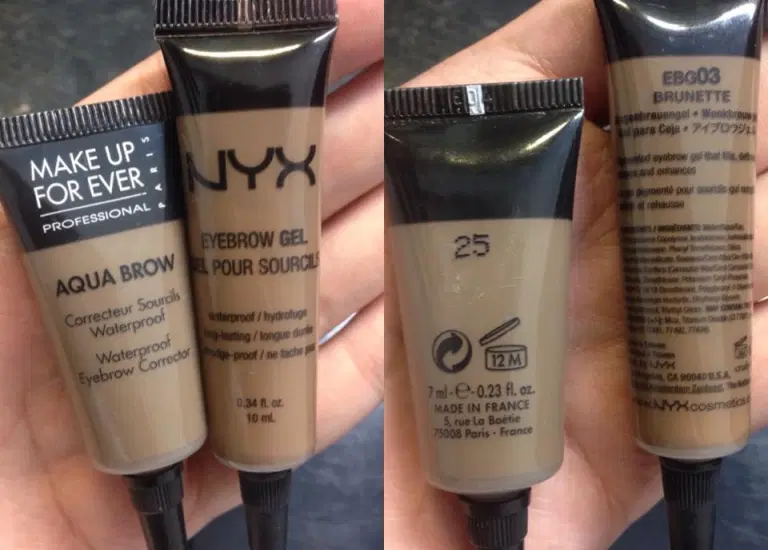 That's it for my full review and demo of the Make Up Forever Aqua Brow and NYX Eyebrow Gel. I hope that this was helpful to you in deciding which one you're going to pick up at the stores or helping you decide to get both! 🙂 If you have suggestions or questions, please do not hesitate to write them down on the comments section and I will try to respond as soon as I can to the best that I can.
Also, a quick shout out to my friend Dhenz over at cosmeticsfornewbies.wordpress.com for suggesting that i do this video/demo for you guys.
Thanks everyone and I will see you all again next time! 🙂
XO,
Gia