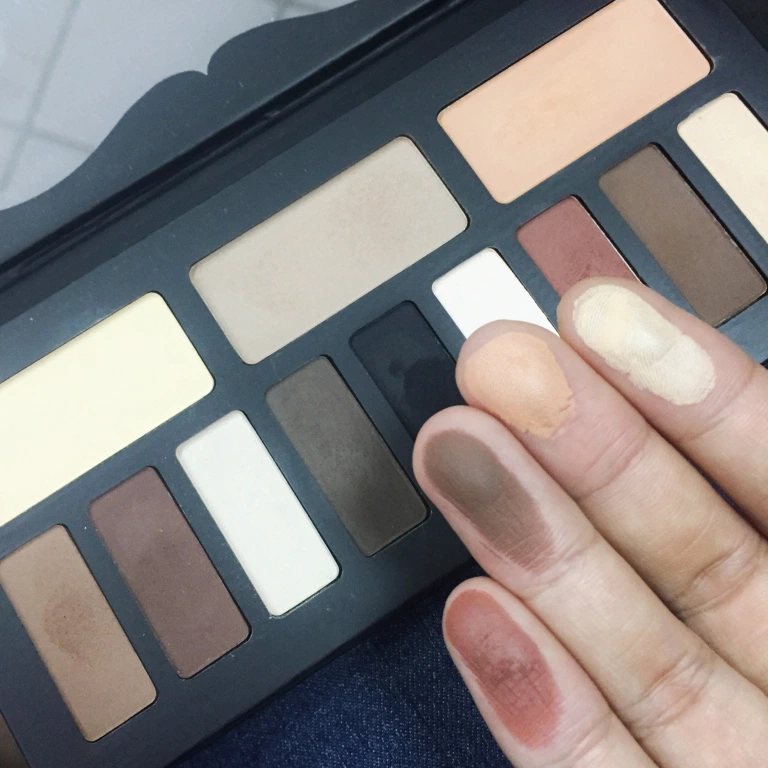 For complete swatches, Head over to Temptalia
This is my first ever Kat Von D product and very quickly, I want to put it out there that I am very impressed with the pigmentation, blendability and lasting power of these shadows.
The palette is basically composed of matte 'neutral' eyeshadows divided into 3 quads based on their color undertones; Neutral, Cool & Warm (L-R) packaged in a luxe cardboard with magnetic closure., with a decent sized mirror All shadows were pretty matte except for the light beige shadow from the neutral quad called 'Lucius' that has some sheen to it, Which I find to be nice to balance out all the mattes in the palette.
The 'Warm' quad is definitely my favorite out of the three, in addition to 'Laetus' from the neutral quad that I have tried to set my undereye concealer with. And as I mentioned in my Instagram post, the black from the palette called 'Shax' is not to be messed with. It's such an intense, creamy and highly-pigmented black! I love it!
The downside if anything, is that the shadows generate quite a bit of kick-up and it can be messy. So you wanna make sure you either do the foundation last or lay down a decent layer of loose powder under the eye to catch the fallout.
Other than that, the eyeshadows are beautiful, creamy and really pigmented.
Now, is this palette a need? Absolutely not.
Is this palette unique? I'd say, not really.
Does this palette have a good shade range? Yes.
Is it good quality? Yes.
Is it worth the money? Yes. — If you are a beginner and looking for an all matte, true neutral palette, this would be a great palette to have in your kit. And even if you do have 6,000 other matte eyeshadows, the quality of the shadows makes this palette well worth the $43.00 (I paid Php 2,300 for this).
I would recommend this to makeup collectors, Kat Von D beauty fans, beginners and those who are looking for an all-in matte palette.