I was so impressed with the brushes I got last time from Zoeva that I started getting individual brushes after I got the Luxe Complete Set, which were actually my first brushes from the brand.
I ordered mine off of Luxola.com and they ship it to me for free [for a minimum spend of P1,300]. I was browsing last week and found this new set and I was immediately drawn to it, particularly because of the color. I'll say I'm a bit of a sucker for "yellow" things. I caved! I'm a self-confessed makeup shopaholic, and my job completely justifies it (or at least, that's what I tell myself).
Anyway, I found the brushes and bought them. Today, I received them and of course, a happy dance was in order.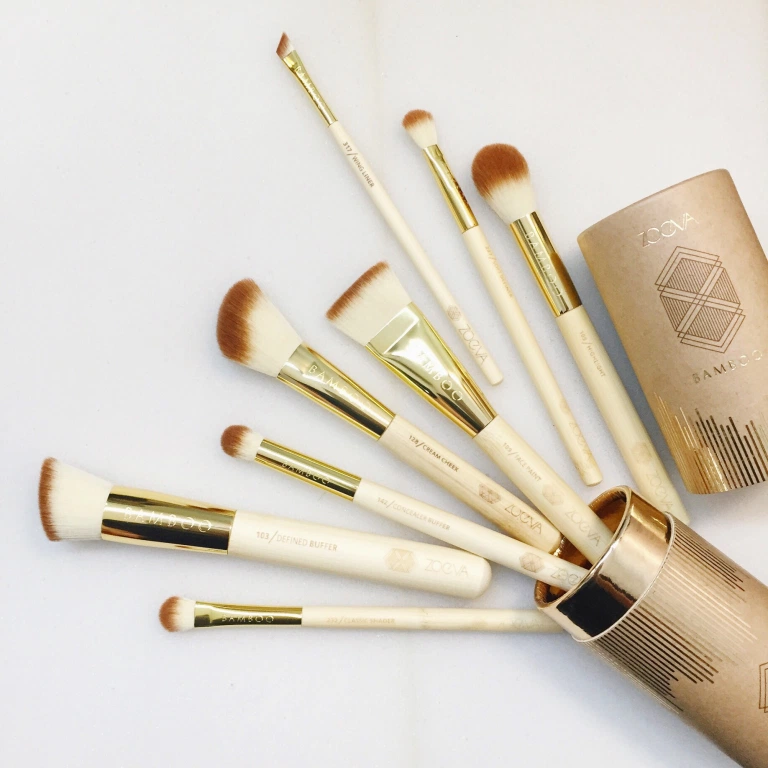 The set includes a beige clutch, that has a Zoeva Logo in front. The material is faux leather and you can tell by the texture that it's high quality and you can actually use it as a fashionable accessory to your outfit.
The set also includes a high-quality cardboard case that can be used as a brush holder, perfect for traveling or storage and for holding your brushes on the counter while you're doing makeup.
There are 8 pieces included in this brush set and I have to say, I have great appreciation for the selection they chose for this set. You'll find the following brushes, included in this set: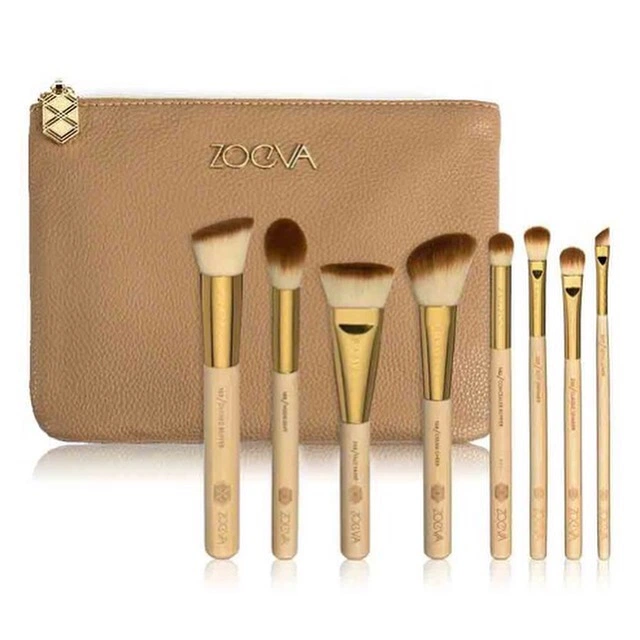 (Photo grabbed from Luxola.com)
103 Defined Buffer (Face)
105 Highlight (Face)
109 Face Paint (Face)
128 Cream Cheek (Face)
142 Concealer Buffer (Face)
227 Soft Definer (Eyes)
232 Classic Shader (Eyes)
317 Wing Liner (Eyes)
The brushes are made from soft, yellow-brown, taklon (synthetic) hair which are ideal for cream, mousse or liquid products. However, the bristles on the brushes here allow for versatile use with powder.
The handles are made of wood, obviously Bamboo and have gold branding of the number and descriptions of the brushes.
My stand-outs from this set are the 103, 105, 128 & 232.
The 103 is excellent for liquid foundation, doesn't create streak marks and applies foundation flawlessly, leaving the complexion smooth and even.
The angle on the buffer also allows reach into the little crevices of the face such as the under eyes, sides of the nose and under the lips.
The 105 is a great multi-task brush. It can be used as an undereye brush for concealer, can be used with powder to set the under eye area, it can be used for highlight as prescribed and it can make for a blush brush as well.
The 128 is great for applying blush, highlight and the angle and size of this brush makes it great for contouring, too! I actually prefer using this for contouring better than the 109 which in comparison to the original 109, this one is smaller in width and height, therefore the spread is smaller and more ideal for chiseling.
Lastly, the 232 works just like the trusty MAC 239. Picks up and packs product really well, but because the tip of the brush is slightly feathery, it can also be used to blend edges of the eyeshadow.
This brush can also be used as a concealer brush or a lip brush if you're one who's comfortable to use a bigger brush on the lips.
My least favorite from this set is the 317 wing liner because while it has a great angle, I find this brush to have a lot of 'give'. I like my angled brushes to be a little bit more on the firm side specially if I want to use it for creating crisp lines or for defining eyebrows.
Other cons I find [in general] with Zoeva Brushes is that they have short handles, I can always wish for longer handles but this length is comfortable enough to use, so no harm done there.
Also, I haven't tried washing these yet so I don't known if they shed. But, my other Zoeva brushes haven't shed [if at all] since I got them, so I'm hoping these will do the same.
Over-all, I'm giving this set a 4 of 5 stars. I highly recommend this set, specially if you are on the look-out for a good quality personal/traveling set.
That's it for my first impressions review of the Zoeva Bamboo Brush set, Please subscribe to my blog and follow me on instagram.
I now have a new instagram dedicated to just makeup, probably swatches, too. In the meantime, just flatlays and a quick stop for mini reviews, suggestions, new favorites, hauls and such.
Please follow @giastmakeup, read as "just makeup" or some read it as "Gia St. Makeup", that's cool too 🙂
Thank you! And I'll see you again next time!
XOXO,
Gia