I'm back with a new video and New Hair!
This look is going to be very simple and easy to achieve. I had to do a few adjustments to my routine because it doesn't work with the new haircolor.
I have always had black hair and I love it, I actually tried to have it lightened (8 years ago) but it didn't work out, it just turned my hair a very dark reddish brown, so since then I just settled for black. But because I was feeling a little more adventurous and confident that I can pull off lighter hair, I had decided to call a colorist and have him do my hair. It actually turned out to be darker than how I wanted it, but that's because my hair is really black and the hair dye simply can't bleach it completely, but I'm very pleased with the result. I'm going to try to go a little lighter in a couple months!
Here's a little before and after photo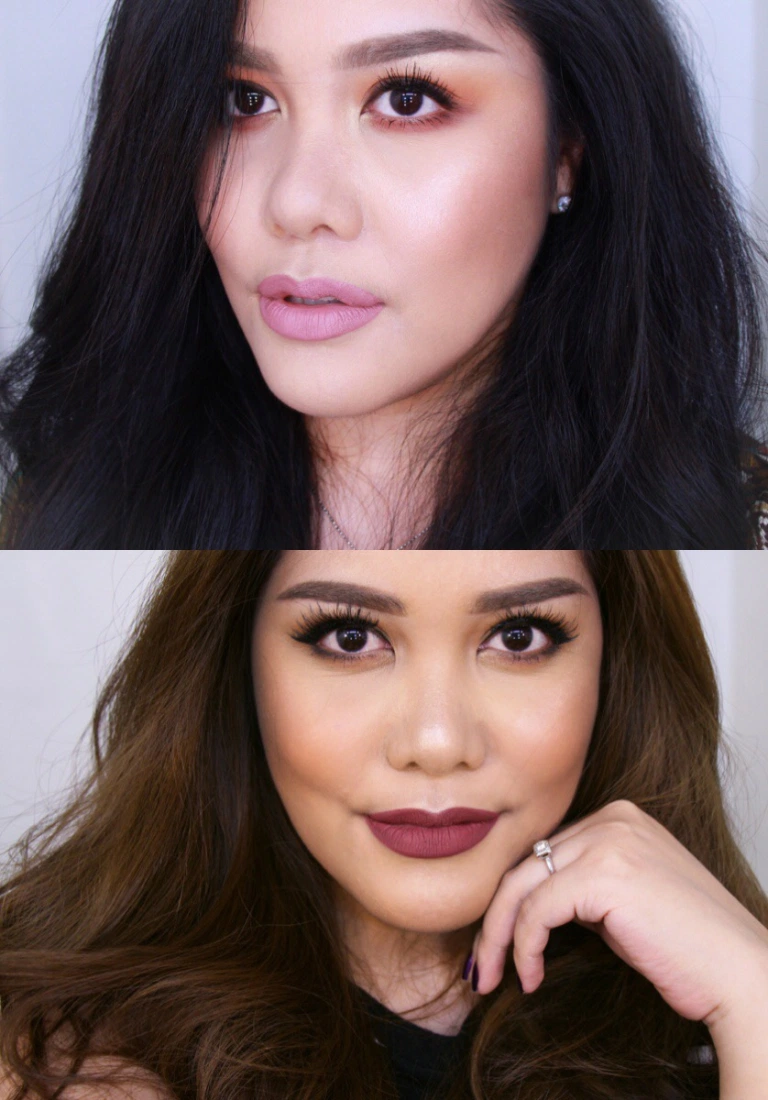 Anyway! The look I created in this video is really super easy, but because I tend to work long hours, I like to go for a very durable and long-lasting base because that's the "foundation" of a good makeup look. You don't have to use the products I used on this video, but they are some of my favorites for the month of June, and I very highly recommend that you try them.
Another reason I created this video even if it was a really simple look, is because I wanted to show you how little adjustments can change your over-all look/apprearance. My black hair was really strong, so everything I put on my face kinda takes a backseat, but with lighter hair everything is easier to notice and my skintone also kind of changed, somehow my face appears to look warmer (and that's good), so I had to change up my makeup and adjust my look according to how my skintone appears. I'm still using NC30 across all MAC products, but because my skintone appears to look warmer, I like to include a warm toned shade in my contour to flatter that warmth. The same goes for my eyebrows and my blush. The blush I used here is my top discovery for June. I can never wear orange anything before, because it just bounces off of my color and sometimes can look either neon or ashy on me for some reason.
Here's the video, I hope you enjoy!
Products used:
FACE
LA Girl Pro Conceal (Instagram: @usphilboutique)
L'oreal True Match Concealer in W4-5 – I get them for Watson's, L'oreal Paris PH is doing a huge markdown sale and you can get these concealers at P400 from it's original price of P699.
MAC Pro Longwear Nourishing Waterproof Foundation in NC30
MAC Blot Powder in Medium (or Laura Mercier Secret Brightening Powder)
MAC Select Sheer Pressed in NC30
Anastasia Contour in Java + Mink (ordered a custom kit from Instagram: @nicolettemakeup)
MAC Mineralize Skin Finish in Soft & Gentle
Zoeva Luxe Colour Blush in Burning Up (luxola.com)
EYES:
Make Up For Ever Aqua Brow in #20 (Instagram: @makeupholics)
MAC Pro Longwear Eyeshadow in Uninterrupted (Instagram: @myprettyhaven)
MAC Eyeshadow in Espresso
K-Palette Mascara & Eyeliner Duo (Instagram: @makeuphaul_ph)
Faboulash in #8409 (Instagram: @faboulash)
LIPS:
ColourPop Lippie Pencil in Bound
Coloupop Ultra Matte Liquid Lipstick in Tulle (Instagram: @thevanityzone)
That is the full list of the products I used on this video, which are also my favorites for the month of June. Yay me! 2 birds with one stone!
Also, I'd like to give a special mention to Faboulash because they are currently my absolute favorite lashes to use personally as well as on my clients. I have tried them when they first came out, initially my favorite style were the #523, I wore it at least 10times, and the lash bands are still intact.
I am currently in love with the style 8409 and they are even lighter that the 523's, so I hope that you will enjoy them too.
Also, a mention to @makeuphaul_ph on instagram, she has a really good selection of makeup products and tools which are on hand and ready to ship. I got the Kpalette duo from her (Ana) and she's been very helpful and quick to deal with. That's very important for someone like me, who's always on the go.
That is it for me and this video. I hope that this look was something that you liked.
Please don't forget to give the video a thumbs up, it will help me out. Please subscribe to my blog, YouTube channel and Instagram account(s) as well, while you're at it.
I will see you all again on my next video.
XOXO,
Gia